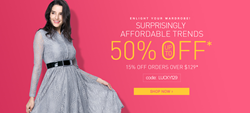 The Latest in Trendy Plus Size Clothing Now Available at FashionMia
Hong Kong, China (PRWEB) February 10, 2017
FashionMia is a fashion e-commerce giant looking to provide every person with premium fashions without breaking their wallets. The company works relentlessly with fashion designers from around the world to pick out the latest in trend setting fashions. Fashions are inspired by regions from around the globe ensuring that every person is represented. The company also uses an extensive manufacturing network to get the lowest prices on all products, these prices are then passed on to customers. FashionMia also looks to ensure that all products sold are defect free, the company can do this with extensive quality control checks that make sure that a product is of top shape before being packaged for delivery. Today FashionMia is proud to announce the launch of new trendy plus size clothing.
FashionMia is a global brand, this means that products sold need to fit trends from around the world, and accommodate the different body sizes specific to a region. With more plus sized shoppers now looking to shop at FashionMia, the company has begun to dedicate hours in finding the latest in plus size trendy fashion. The company has been able to add more to its plus size category in large part because of its manufacturing partners. The company has worked extensively with manufacturers to produce larger sizes of the most in demand products. The company offers the very best of its women clothing line in all sizes now, this includes XL sizes. The company has taken plus sized fashion even further by dedicating a section of the site to plus sized women. FashionMia now offers an extensive range of trendy plus sized dresses. These unique and trendsetting plus sized fashions are exclusive to FashionMia and include bodycon, shift, flared, mid, and maxi dresses. On top of dresses FashionMia sells the latest in trendy plus sized tops, these come in all sorts of styles, colors, and designs.
Plus sized women clothing no longer needs to be a challenge to find, FashionMia sells products for all shapes and sizes and will continue to add to its inventory. Customers are encouraged to constantly check back to see new additions and sales in its trendy plus sized collection.