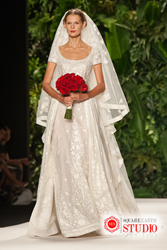 'The textures, the colors [and] the whole feeling was from Latin America.' - Naeem Khan
New York, New York (PRWEB) July 31, 2014
For his Spring/Summer 2014 collection, designer Naeem Khan showcased his red hot collection of Latin culture-inspired dresses and separates with a sizzle. When interviewed by Founder and Creative Director of FashionMingle.net Melissa Shea about the inspiration for this collection, the designer commented, "The textures, the colors [and] the whole feeling was from Latin America".
Indeed, the pieces ranged from sizzling scarlet and rosy pink to dramatic black and white, with a few tropical hues in between. With pieces that evoked flamenco dance ensembles and colorful beaded bodices, the collection that was aimed for a "high-powered women" was right on target.
The mixture of fitted bodices and relaxed dresses with peasant blouses and flared skirts was unmistakably indicative of Latin influence. "We've taken very sophisticated elements from that part of the world, and I've created a collection from it," said the designer.
Some dresses were inspired by hand-painted tiles in Mexico, while others carried the potent color and unique style of Spanish roses. The collection exhibited an array of pieces, from floor length gowns to crop tops and babydoll dresses appropriate for everyday casual summer wear. The bold-patterned dresses were a perfect combination of vivid colors and casual elegance. Most looks were paired with gold platforms and dewy neutral makeup.
The unique runway show was produced by Fly Productions Creative, a fashion show production company based in New York City, and consisted of a backdrop of tropical greenery as the models walked down a white aisle with hair reminiscent of Frida Kahlo braids. Lit by a warm yellow light, the overall ambiance was one reflecting the warm intimacy of the Latin culture.
The 2014 Spring/Summer collection also debuted Khan's very first bridal gown and he is already promoting his 2015 bridal collection, which features designs so uniquely different from each other; one feels that every woman in the world is represented in this collection.
About FashionMingle.net
FashionMingle.net is a network for fashion entrepreneurs to share, discover, and mingle. The business directory and social network creates a PR platform for fashion entrepreneurs to promote their services and grow their business. More information can be found at FashionMingle.net.