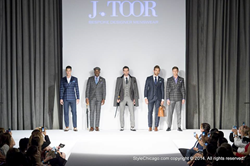 FashionChicago is a great opportunity to see the best designers in Chicago, where shoppers can experience an upscale [gallery merchandising] street fair of fashion. ~Jonathan Smith, ManagingPartner, StyleChicago.com
Chicago, IL (PRWEB) May 01, 2014
With another season blooming in Chicago gearing up for spring and summer, a weather-conscious wardrobe is a must have in order to suit the needs of the ever-voguen Chicagoan. StyleChicago.com will host, FashionChicago, their fabulously incredible bi-annual two-day designer shopping event held under the white tents of downtown Chicago's Millennium Park on Saturday; May 3rd from 10am--6pm; and Sunday; May 4th from 11am--5pm.
FashionChicago will be a gathering of the city's top 30 local fashion, jewelry, and accessory designers for this two-day shopping extravaganza. An exceptionally tasteful affair with complimentary admission, this shopper's haven is expected to have well over 10,000 attendees . And, after the recent showcasing of StyleChicago.com's "The Art of Fashion", Chicagoans will be able to indulge and see up close and personal some of the collections featured on the runway. Shopping enthusiasts will have the opportunity to purchase pieces of crafted luxury from some of the best local designers and upscale fashion boutiques, including the luxurious brand of male bespoke custom and tailored suits of J.Toor. A fashion favorite that was well received on the runway of "The Art of Fashion," and during FashionChicago, they will be displaying their designs for the season, while promoting their customized concierge shirt service. A perfect time to welcome the warmth of the summer, and a nice style starter to help the fashion-forward male begin building their customized wardrobe of refined sophistication. The design house of J.Toor will also be selling a lot of their high-end accessories of hand-made bow-ties made from the finest of European fabrics to add those final touches to create that polished look of male couture clothing.
This year welcomes Fashion Focus's ninth season, a testament to the thriving support of the local creative talent with such signature suiting clothiers, such as J.Toor, who maintains the traditions of old- world tailoring and brings it into the modern age. This will definitely be a unique shopping experience in a lovely outdoor venue, welcoming the city's love for fashion, and will help shoppers discover those one-of-a-kind must-have's to compliment one's closet and to be the envy of all fashion devotees to have the perfect outfit for every occasion.
To find our more about StyleChicago.com's FashionChicago shopping event and other featured designers participating, you can visit http://www.stylechicago.com.
Indie Source makes premium apparel for clothing brands, then ensures those products make a big impact in the market. Learn more about how they support fashion brands with garment development, apparel manufacturing, fashion sales and marketing at http://www.IndieSource.com.