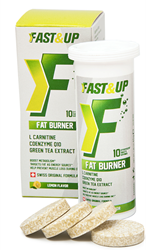 Losing weight usually tops the New Year's Resolution statistics
Los Angeles, CA (PRWEB) December 17, 2013
Ortu Traders, a Los Angeles-based importer and exclusive distributor of Fast & Up Effervescent Supplements in the U.S., is launching Fat Burner in time to help people who are looking to lose weight or shed fat in 2014.
"Losing weight usually tops the New Year's resolution statistics, yet research suggests only a very small percentage of people achieve their goals," says Raphael Guien, General Manager of Ortu Traders. "Fast & Up can help give people the kick start they need."
Fast and Up Fat Burner is an effervescent tablet that dissolves quickly in water. It is a combination of high quality all-natural ingredients that help burn calories, boost metabolism and keep energy levels balanced.*
Fast & Up Fat Burner is also sugar free, caffeine free, gluten free, lactose free, animal preservative free and free from artificial stimulants and harmful chemicals.
Ingredients include:
L-Carnitine
Co Q10
Green Tea Extract
Niacin
Vitamin B6 and Vitamin B12
Guien adds, "Fast & Up Fat Burner fits easily in to people's daily routines. Taking first thing in the morning and last thing at night, or just before exercise, can help people start to see results and stick to their weight loss resolutions."
Find out more about Fast & Up Fat Burner at http://www.fastandupusa.com.
*These statements have not been evaluated by the Food and Drug Administration.
ABOUT FAST & UP USA
Fast & Up products are patented and made in Switzerland by leader in European effervescent supplement innovation, Novelty Pharma. Fast & Up is currently distributed in 18 countries worldwide and imported exclusively for the U.S. by Ortu Traders LLC.