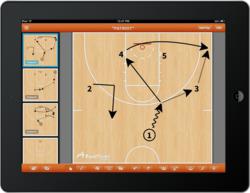 FastModel has developed a way for teams to reference their intellectual property in seconds.
Chicago, Illinois (PRWEB) July 11, 2013
FastModel Sports, the leading provider of digital playbook, team management and scouting software used by all 30 NBA teams and over 500 NCAA Division I programs, released its first mobile playbook app today, FastDraw Basketball Pro for iPad.
FastDraw Pro brings the most respected play-diagramming tool on the market to coaches' fingertips and offers an unlimited library size so coaches can take their entire playbook with them anytime and anywhere. The program easily syncs with desktop databases so a team's entire basketball IQ is available in one place.
NBA and NCAA customers can access a free trial version of the app at the iTunes store until July 31, 2013.
With the program launch timed to coincide with the start of the NBA Summer League season and top tier NCAA Basketball summer camps, FastDraw Pro allows coaches to diagram new plays or drills and call up their entire play library while on the court, on a plane or on the go.
"NBA and college coaches have been using FastDraw for more than 10 years now - with some building playbooks holding over 40,000 plays," said Andy Graham, FastModel's Vice President of Development & Innovation. "FastModel has developed a way for teams to reference all their intellectual property in seconds. Now coaches can find the winning play right on the court where previously they would only have a limited number of printouts with them."
The NBA Summer League in Las Vegas features 22 teams competing in 61 games from July 12-22, 2013. "Once the NBA decided to allow iPads on the court during games, FastModel Sports set out to duplicate our robust programs for mobile use and we are excited to see it used for the first time by NBA coaches and players this summer," said Graham.
About FastModel Sports:
FastModel Sports is a Chicago-based software company that provides the most trusted critical intelligence capabilities in the business to all 30 NBA teams, over 500 Division I basketball programs and over 5,000 high school and youth basketball coaches in 65 countries. FastModel's easy-to-use suite of programs (FastDraw, FastScout, FastPractice) allows efficient play diagramming, unlimited play cataloging and complete synchronization for coaching staffs and front offices across mobile and desktop environments. FastModel Sports was founded in 2003 by Ross Comerford, a former Division III basketball player, with a goal of becoming the number one provider of tools, mobile apps and educational material to coaches at all levels. The company's scalable programs work for, and are priced for, teams ranging from youth programs to the NBA. FastModel's growing coaching library holds over 2,000 free basketball plays, available to coaches at all levels.