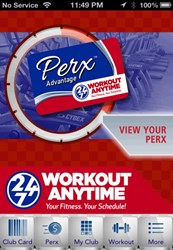 Atlanta (PRWEB) August 01, 2013
WORKOUT ANYTIME, a 42-unit rapidly growing fitness franchise, is pleased to announce its new mobile application launching August 1, 2013. Positioning WORKOUT ANYTIME as a technology leader in the health club franchise industry, the mobile app gives users access to an enhanced member and prospective member experience. The app interface created by Perx Advantage, is enhancing the face of the entire franchise system giving members the ability to receive exclusive discounts across the entire WORKOUT ANYTIME community.
"Mobile platforms are highly coveted and extremely important in the rapidly growing tech-forward business landscape. It was imperative for us to provide an app to engage our members while bringing significant added value to their monthly memberships," said Karen Jordan, VP of Franchise Operations at WORKOUT ANYTIME. "Our app enhances the member experience in many ways – most notably giving them access to exclusive member-only discounts at any of our franchises across the country."
Developed by Perx Advantage, the app allows members to check-in to clubs, refer friends, log workouts, find locations, report maintenance requests and keep up with all of the various social media feeds. The main incentive-based feature called 'Perx' also gives WORKOUT ANYTIME members access to discounts at businesses in their local communities wherever there is a location. This program allows users the chance to save money at establishments they shop at every day and "save their way to a free membership."
"We are thrilled to be launching this platform with WORKOUT ANYTIME. The foundation of WORKOUT ANYTIME is focused on the members and their local neighborhood. The app brings together both of these elements," said Kelly Sweeney, President at Perx Advantage.
"We know that the significant majority of our members carry smart phones and the number of mobile users is on the rise which is why we want to provide the very best for its clients, and provide them with this great tool to get the most from their club experience," Jordan said. "Offering this app to our clients gives them member-only incentives and is a great way to thank them for their loyalty further integrating WORKOUT ANYTIME in each of the communities it serves."
To download the innovative new app, go to the App Store or Google Play and search for WORKOUT ANYTIME.
ABOUT WORKOUT ANYTIME: Atlanta-based WORKOUT ANYTIME is a 24-hour, seven-day-a-week fitness concept with 42 units across the United States. Founded by fitness veterans John Quattrocchi and Steve Strickland, the company was formed to provide members with first-class fitness facilities at the lowest cost possible, while delivering a profitable and affordable business model to franchisees. Built on the founders' motto of, "think big, keep it simple and do it with integrity," Workout Anytime is preparing for significant expansion into new territories by providing opportunities to business-minded entrepreneurs. For further information about franchise opportunities, visit its website.
###