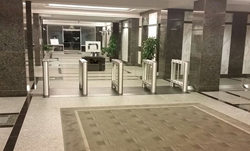 The world today is far different; now it is becoming standard fare to tighten lobby security in cities of all sizes with Fastlane.
Austin, TX (PRWEB) January 12, 2016
Smarter Security, Inc., provider of premium, innovative entrance control and outdoor security solutions, today announced a large staffing company recently installed Fastlane Glassgate® 150 optical turnstiles in a headquarters building on the west coast. Terrorism in Paris a year ago, where shooters invaded a commercial office, signaled a need to tighten the entry security at its main office, and the company chose to rely on the U.S. industry leader to properly address the security risk.
"Terrorist activities are unfortunately spreading into the United States and add to the reasons Class A office towers and important organization buildings need higher levels of physical security," said Jeff Brown, CEO of Smarter Security. "Fifteen years ago, optical turnstiles were mainly found in big cities east of the Mississippi. The world today is far different; now it is becoming standard fare to tighten lobby security in cities of all sizes with Fastlane®. We are pleased to add this prestigious customer to the long list of others who appreciate Fastlane's industry-leading intelligence, aesthetics and reliability."
The staffing firm installed four lanes of Fastlane Glassgate 150 to secure the main building at its headquarters location in the western United States. Since the office building is leased, the firm chose to use Fastlane Floor Protectors so the lobby floor would not need to be drilled to anchor the lanes. For the same reason, unique, free-standing Fastlane Infill is placed in the lobby to guide authorized people through the lanes to the secure side of the lobby. Smarter Security was the sole supplier considered due to its market-leading position and the many strengths that make Fastlanes so highly appreciated. Glassgate 150 was chosen partly for the value, and also for the fine aesthetics that complemented the architectural design in the building.
Smarter Security's Fastlane Glassgate 150 is the company's best-selling and entry-level barrier turnstile that helps automate building entry security. Glassgate 150 has pedestal-high glass barriers and glass side panels that combine to project a more open feel in the lobby. Security is high as tailgaters are alarmed as close as one-quarter inch, and worker entry is streamlined with passage of up to 60 people per minute, an industry best. Glassgate 150 was the first Fastlane model to be designed to be connected to an Ethernet network and four years later, nearly all Fastlanes are IP-enabled.
About Smarter Security, Inc.
Smarter Security provides premium and innovative entrance control and outdoor security solutions to help organizations protect their people and assets in a world of ever-present threats. Since 1992, Smarter Security has offered Fastlane turnstiles, the most elegant and intelligent optical turnstiles available, which protect thousands of commercial and government lobbies on six continents. Smarter Security also offers perimeter intrusion detection systems, including SmarterBeam, a wireless passive infrared motion detector. For more information, please visit http://www.smartersecurity.com.
Fastlane and Fastlane Glassgate are registered trademarks of Integrated Design Limited.