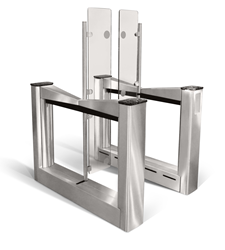 With the six-foot high, locking glass barriers available with Glassgate 400, there is little need for revolving doors in the interior of a building
Austin, TX (PRWEB) September 23, 2014
Smarter Security, Inc., provider of premium, innovative entrance control and outdoor security solutions, today announced a top oil and gas company selected Fastlane Glassgate® 400 optical turnstiles to secure office buildings on a corporate campus. Revolving doors were in the original plans for the building entries but the compelling advantages of and the customer's experience with Glassgate 400 led to the revision and ultimate order for Smarter Security. This is the fifth and largest order of Fastlane turnstiles from this customer.
"With the six-foot high, locking glass barriers available with Glassgate 400, there is little need for revolving doors in the interior of a building," said Jeff Brown, CEO of Smarter Security. "We are truly happy to be working with this petroleum customer once again and to extend our engagement with and protection of its employees to even more buildings. This is one of our largest orders of the year and helps us stay on the aggressive growth pace we planned for 2014."
The customer ordered fourteen lanes of Fastlane® Glassgate 400 from Smarter Security to provide entry control for several entry points in two campus buildings. Fastlane turnstiles became preferred over the revolving doors because they solved the problem at a fraction of the cost, and the significant throughput advantages would allow employees faster passage to and from work. Also important was the superior aesthetics offered by Fastlane. After successfully using the same turnstile model in other buildings for more than a year and enjoying the sales support and service from Smarter Security, the oil and gas company considered no other turnstile supplier.
Smarter Security's Fastlane Glassgate 400 is the highest security speedgate the company offers. Swinging glass barriers are available in four different heights and the six-foot version is an obstruction as well as a deterrent to intruders. Available with a hard lock, the barriers can become an immovable obstacle allowing the turnstile to be used at an unstaffed entrance. As with all Fastlane barrier turnstiles, user throughput is up to sixty people per minute. Smarter Security will have Glassgate 400 and other Fastlane turnstiles on display in booth 3429 at ASIS International's annual seminar in Atlanta, September 29 – October 2, 2014.
About Smarter Security, Inc.
Smarter Security provides premium and innovative entrance control and outdoor security solutions to help organizations protect their people and assets in a world of ever-present threats. Since 1992, Smarter Security has offered Fastlane turnstiles, the most elegant and intelligent optical turnstiles available, which protect thousands of commercial and governmental lobbies on six continents. Smarter Security also offers perimeter intrusion detection systems, including SmarterFence, a fiber optic fence-mounted sensor. For more information, please visit http://www.smartersecurity.com.
Fastlane and Fastlane Glassgate are registered trademarks of Integrated Design Limited.