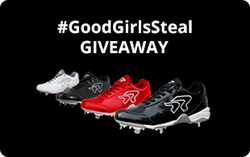 Wilsonville, Ore (PRWEB) May 20, 2014
Softball cleat manufacturer, Ringor, announced this week the first winner in their #GoodGirlsSteal Giveaway, which will award a pair of their game-changing 10 oz Diamond Bandit spikes to one lucky winner each week, for nine weeks. The giveaway coincides with the launch of Ringor's new website and online store, featuring direct-to-customer sales of Ringor's fastpitch softball-specific footwear and accessories, built for athletes who demand quality and durability.
Ringor launched the #GoodGirlsSteal Giveaway on May 7 via their social network pages, including Facebook, Instagram and Twitter. Each week, one qualified fan will be added to the winner's roster and will win a pair of Ringor's 10 oz Diamond Bandit spikes. The Bandit, along with several other Ringor cleats, have received the prestigious Seal of Acceptance from the APMA (American Podiatric Medical Association). Ringor cleats are the only APMA accepted cleats. The #GoodGirlsSteal hashtag is a popular tag on social media and highlights the cleat's lightweight advantage for stealing bases.
The first giveaway winner was added to the "roster" on May 15 and eight more winners will be chosen over the next eight weeks. Visit Ringor.com to enter the giveaway and for contest rules.
The newly redesigned Ringor.com site features Ringor's athlete-driven cleats, turf shoes, and accessories, available for direct-to-consumer purchase through the e-commerce section of the site. In addition to being able to purchase some of fastpitch softball's highest quality and most durable and comfortable cleats, visitors can also get up to speed on everything fastpitch through Ringor's news blog – Softball Chatter.
Featuring tips, training, and insight into improving every athlete's game, on and off the field, the Softball Chatter blog promises to be the home base for fastpitch players – from Little League, Travel Ball, through high school, college and beyond – looking to advance their skills and knowledge. Weekly posts will include videos, interviews, drills and advice from experienced athletes across the country.
--
Located in Wilsonville, Ore., Ringor has been making world class cleats since 1983 and Ringor is the only cleat manufacturer that focuses solely on women's fastpitch.
Featuring athlete driven designs that perform in the most demanding game environments, Ringor's metal spikes, cleats, turf shoes, sandals and accessories are created with the fastpitch athlete in mind. Ringor's fastpitch culture extends beyond the diamond and to the office where sportsmanship meets workmanship. For more information on Ringor fastpitch softball gear, visit Ringor.com.