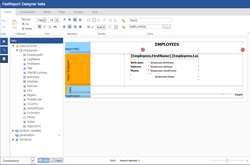 Often we get requests about designer edit of existing reports online - from tab computers, notebooks on different platforms. And - yes it is possible now!
Alexandria, Virginia (PRWEB) January 21, 2015
Fast Reports Inc. (http://www.fast-report.com), the software development major known for its innovative and fast report generation tools for diverse platforms, announced the release of FastReport.Net 2015.1
New version of FastReport.Net 2015.1 has included new online designer web-components for our users who want more opportunities in corporate reporting. Now it is possible to open and construct report-templates and reports with this tool in any modern browser. Online designer works quickly and smoothly on any devices from traditional computers to mobile devices (from 7' and higher).
By this feature software developers can give to business users more flexibility in reporting and business analysis.
About Fast Reports Inc.:
Founded in 1998, Fast Reports Inc. is known for its state-of-the-art reporting software applications, libraries, and add-ons that guarantee fast reporting for developers of the business software. The company has websites in 10 different languages to cater to its global audience. The products are localized to more than 40 languages. Operations are spread across America and Europe.
Contacts:
Michael Philippenko
CEO, Founder, Fast Reports Inc.
michael(at)fast-report(dot)com
Fast Reports Inc.
901 N Pitt Street #325
Alexandria, VA 22314
800-985-8986 (USA only)