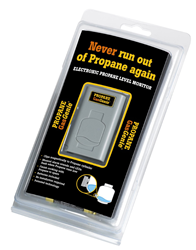 Thinking of a Father's day present is always difficult. Anyone who BBQs using propane would find this a great asset. And that must include most fathers. - Peter Frank
Dallas, Texas (PRWEB) May 30, 2014
The Propane GasGenie is a simple and neat product that solves one of BBQ users oldest problems: Namely knowing when your gas is getting low and the tank needs refilling or replacing.
It is the only product that actively warns a BBQ user in time for him to finish cooking and then replace the tank. So no more running out of gas in mid BBQ. It will make an ideal Father's day present for anyone whose father likes to BBQ.
The device is small and neat and simply clips magnetically to the lower part of the propane tank. Then using a combination of temperature of the tank wall over time it is able to detect when the liquid level in the tank gets to around 20% capacity or less. It then plays a short tune and flashes its LEDs. It only plays the tune when the gas is being used because it can detect from the temperature change when the BBQ is switched on.
From now until Father's Day (15th June) CEP are offering a 10% discount on their already discounted price of $19.99. The normal retail price is $24.99. To get the discount all a buyer needs to do is quote the voucher code APGG4DAD when they check out of the Amazon site.
Additionally CEP have introduced a new competition on the Propane GasGenie website that will give away a free Propane GasGenie to the winner of a simple competition. And there is yet another opportunity to win a unit by playing the fun Hamburger Frisbee game that is also on the website.
Peter Frank of CEP says 'Thinking of a Father's day present is always difficult. But an interesting accessory for the BBQ has to be a good place to look. And the Propane GasGenie is not only interesting, but also unique and fulfils a really useful purpose. Anyone who BBQs using propane would find this a great asset. And that must include most fathers.'
About Creative Electronic Products Inc
Creative Electronic Products Inc searches worldwide for products that are currently not available in the USA. After finding a possible contender it carries out due diligence by investigating the manufacturing Company. It then tests the product thoroughly before approaching the manufacturer to discuss an arrangement for the USA. For more information, visit http://www.cepinc.biz.