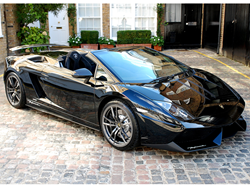 We have put together a series of packages which are guaranteed to cement your position as favourite Son/Daughter and we have a lot of experiences that are buy on get one free so you can treat yourself at the same time. Everyone has a good time
(PRWEB UK) 21 May 2014
Father's Day is one of those occasions where most people struggle to decide what to get Dad. Presents need to be memorable and something Dad will really enjoy. Rushing out to buy nose trimmers, anything USB with flashy lights and the ubiquitous Father's Day socks may not necessarily be the best solution though.
Why not get Dad an experience which appeases the young immature side of Dad and let him thrash a Supercar 'round one of the prestigious racing circuits in the UK? There are so many cars to choose from and so many that Dad would love to drive. Ditch the idea's of ties (Dad dosen't really like them), Father's Day is the time to buy something Dad would never get himself, something fun and exciting! Trackdays.co.uk have declared war on boring Father's Day presents and have a fantastic arsenal to wage this war.
The best Father's Day present is one that's tailored to Dads personality and making it enjoyable. Dad can buy himself things like shirts, socks ties so look for things that appeal to Dad, that he might not think to buy for himself.
Trackdays has numerous special offers for Father's day and you can find some Father's Day Gift Ideas here including the following products:
Single Seater experience for two
Double Classic Car Driving Experience
SuperCar Thrill Inc Free Photo
Father and Junior Supercar Thrill
Audi R8 Driving Experience
Rally Driving Experiences
There are simply hundreds of packages available for Dad this year even ones such as the DAF Arctic Truck Driving Experience that will appeal to the small child in him and spend some time driving a full size lorry!
Dan Jones, Operations Manager and leader in the war against bad Father's day presents said "We have put together a series of packages which are guaranteed to cement your position as favourite son/daughter and we have a lot of experiences that are buy on get one free so you can treat yourself at the same time. Everyone has a good time"
Check out the the Father's Day Gift Special Offers at TrackDays.co.uk