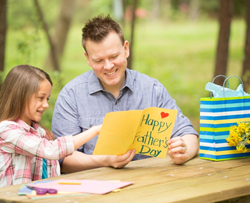 The best gift will indulge dad's hobbies for Father's Day - Leslie Linevsky, Catalogs.com
Fort Lauderdale, FL (PRWEB) June 11, 2015
Any dad can tell you that the most important part of Father's Day is spending it with family, but the experts at Catalogs.com have done some digging – and according to their observations of retail trends in Father's Day purchases, some gifts stand out more than others do when it comes to Dad's special day. Gadgets and "guy stuff" make up most of the 10 Best Father's Day Gifts for 2015, according to the Catalogs.com gift shopping pros.
"Dads are always happy to celebrate Father's Day with the kids," says Leslie Linevsky, Catalogs.com co-founder. "The best gifts are tailored to fathers' favorite activities; gifts that show you really put some thought into what he'd enjoy – and that you will give him the day to indulge in his hobby or favorite pastime. Father's Day is about what he is passionate about, not what you want him to do."
Catalogs.com's retail experts report that the hottest Father's Day Gifts for 2015 include:
1. Fishing gear. From fishing rods and reels to accessories that make angling more of an adventure, let the outdoor enthusiast Dad bask in the day by relaxing with his favorite hobby. Promise to pack a cooler with his favorite sandwiches and let him set out to test his new equipment.
2. Back and neck pain relief. Ease Dad's aches and pains with a massage chair or zero gravity recliner from Relax the Back that promises to chase away years of tension and everyday muscle stress. Position the chair in front of the TV, hand him the remote and watch him transition to a state of total relaxation.
3. Immortalized memories. Professionally made photo books and DVD compilations of treasured family videos are always great gifts to commemorate Father's Day. Pull together photos of last summer's softball league season, the family reunion or old family photos and create a one-of-a-kind gift for your favorite patriarch.
4. Stylish hats. Indulge your dad's style with a fedora or Panama hat that lets him express himself when he's out and about. DelMonico Hatters has plenty of inspired hat styles for men. Even if your dad isn't the guy who would buy one for himself, he probably won't be able to resist channeling his inner adventurer with an Indiana Jones-style hat.
5. Building and hobby craft supplies. Give your favorite builder the tools, accessories and especially the time necessary to tinker, build or create something new. Look at kits for beginning skill levels or specialty hand tools for the expert hobbyist. Handy dads are thrilled to log man-hours in the workshop.
6. Eye-catching men's jewelry. Whether your dad would love a Gucci dog tag necklace or a chronograph watch, finding him the perfect piece of luxury jewelry for men will make his year. Men really do like good-looking jewelry as much as women do, especially if it has the right balance of masculine style and wearability like the jewelry fashions at Mayors & Birks Jewelers.
7. Dad's day off. Let your favorite father figure relax with an ice-cold lemonade or other libation while you handle the household chores he's usually responsible for – and top it off with a certificate that lets him claim the same type of day any time throughout the year. Hard-working dads need time to regroup and recharge.
8. Exercise equipment and fitness gear. Busy dads still need to stay healthy, and for many, the perfect solution is home gym equipment. From free weights to trainers, bikes and tread climbers, home gym equipment can help dads squeeze in a workout when they have time.
9. Fashion accessories. Take a cue from your dad's sports passions. Is he a football fan, Nascar follower or golf aficionado? You can find sports themed shirts, caps, jackets and leather goods at every price point. For the rough and ready guy, the experts at Catalogs.com suggest snagging a professional bull rider belt buckle from Montana Silversmiths' PBR Collection to add a little panache to your pop's wardrobe.
10. Grills and grilling accessories. The whole family will enjoy Dad's cookouts, so why not spring for a grill or accessories that will turn any backyard cookout into a gourmet meal? Rotisserie attachments, veggie grilling kits and commercial-quality utensils can transform an ordinary barbecue into a culinary adventure.
"The perfect Father's Day gift is something that's as meaningful as it is enjoyable. Dad loves practical, and if your gift adds to his favorite pastime or activity, you're golden," says Linevsky. "Taking the time to choose a gift that your dad will enjoy really shows him that you care, and the bottom line is that's what dads really want."
About Catalogs.com
Since 1996, Catalogs.com has connected shoppers and the products they love. With the company's new Dynalog dynamic catalogs, they offer simple, accessible shopping from more than 740 major and specialty retailers through mail, online and mobile platforms.