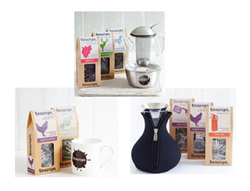 Brentford, UK (PRWEB UK) 9 May 2014
Every Dad loves a cuppa, so why not let him put his feet up and treat him to a lovely cup of teapigs real leaf tea this Sunday, 15th June. Whether it's strong earl grey, chilli chai or darjeeling - there's something to suit every Dad's tastes. The 'teapigs mug - gift set' is a good place to start - made up of a big bone china mug and two of the most popular teapigs teas - everyday brew and peppermint.
For Dads who take their tea making seriously, indulge them with a 'smart-tea gift set'. This robust stainless steel and glass tea set is not only super smart, it also keeps tea warm for hours (by a natty candle device underneath), and holds 6-7 cups of tea - meaning Dad can drink it all day long and show it off to his mates in the office.
If he likes his brew with a punch, the 'one for the boys' gift set certainly won't disappoint. This super-sleek, heat resistant Eva Solo tea maker comes complete with a stylish black jacket and three of teapigs' most gutsy brews: yerba mate, everyday brew and chilli chai tea.
Unlike the average 'cuppa' teapigs teas are made using whole leaves, herbs and flowers and presented in biodegradable tea temples allowing room for the leaves to infuse fully, just like loose tea in a teapot. The teapigs range is very exciting - it covers all the classics like everyday brew and darjeeling earl grey and only the finest whole ingredients are used – whole leaves, whole flowers and whole berries.
Notes to Editor:
For further P.R. information, a list of matcha stockists or images please contact:
Olivia Blundell at team TASTE on 0207 242 2844 or oliviab(at)taste-pr(dot)com
'teapigs mug - gift set' - RRP £13.50
'smart-tea gift set' - RRP £67.90
'one for the boys gift set' - RRP £67.90
The teapigs range of whole leaf teas are available in the following flavours: darjeeling, earl grey strong, everyday brew, darjeeling earl grey, chai tea, chilli chai, chocolate flake tea, mao feng green tea, green tea with mint, popcorn tea, jasmine pearls, silver tips white tea, tung ting oolong, rooibos, rooibos crème caramel, spiced winter red, lemon and ginger, chamomile flowers, peppermint leaves, pure lemongrass, super fruit, liquorice and peppermint, yerba mate, organic matcha.
Where to find teapigs: http://www.teapigs.co.uk, Harvey Nichols, Selfridges and key retailers across the UK
Where to find teapigs matcha: http://www.teapigs.co.uk, John Lewis Foodhall, Whole Foods Market, Selfridges and Harvey Nichols.
About teapigs;
Nick and Louise started teapigs in November 2006. They met whilst working for a really big tea company, where they learned all about tea and drank lots of it. And the more they learned, and the more they drank, the more they came to realise something: that there's a whole world of quality teas out there that simply aren't getting the attention they deserve. And so teapigs was born. They set out on a mission to bring REAL tea to the UK. With a range that boasts 14 whole leaf teas and 7 whole berry and flower herbal infusions - including soothing chamomile, festive spiced winter red, refreshing silver tips white tea - there is a blend to suit all tastes. Unlike your average 'cuppa', teapigs teas are made using the very best whole leaf teas, herbs, berries and flowers - no dust in sight! The tea comes in biodegradable tea "temples" a roomy mesh bag that gives the leaves all the room they need to infuse fully, just like loose tea in a teapot. Handled with love and care from first pick to last pour, teapigs endeavour to deliver the best flavour in every cup of tea. With beautifully designed packaging and useful tips on how to get the most out of each infusion, these tea lovers are ones to listen to - championing no airs, no graces, just fine tea. teapigs co-founder Louise, says of their REAL TEA mission, 'Drinking good tea doesn't have to be complicated and the quality shouldn't be compromised for convenience. Our mission is simple – to show the UK how great tea should look and taste.'