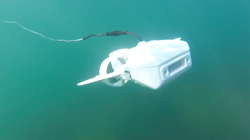 Grand Rapids, MI (PRWEB) September 14, 2016
Fathom's Kickstarter campaign to raise funds for the Fathom One underwater drone has raised over $178K, putting them at nearly $30K over their original funding goal. The Fathom One was designed to be easy to use, highly portable, fully modular and affordable, at less than half the price of its closest competitor.
Fathom ensures a simple user experience so that anyone can pilot the Fathom One drone. It's as easy as connecting the Fathom One to its provided Wi-Fi buoy, wirelessly linking with the buoy using the Fathom app on any smart device, dropping it in the water and exploring. Not only is the Fathom One simple to use, it's also versatile. All three of its thrusters clip on and off, allowing the user to easily customize, upgrade or travel with their device. With the modular thruster attachment and integrated rail systems, Fathom One is one of the most customizable drones in the world.
"Ease of use is something we obsess over at Fathom. You can build the most capable product in the world, but unless everyone can easily pick it up and use it, it's not worth much in our eyes," said lead designer John Boss. "With our design, we promise you'll be able to become a pro at piloting the Fathom One the first time you take it out."
The Fathom One can run up to one hour on a single charge and reach speeds of up to 3 knots. Each drone also comes equipped with an HD 1080p onboard camera, 100 feet of tether that attaches to a custom floating buoy and built-in 3W LEDs for clear viewing, even at depths of 150 feet or at night. Users can also share what they see with their friends by simply recording and uploading their underwater footage to social media using the Fathom app. Additionally, the Fathom One's integrated rail system allows individuals to attach action cameras, extra lights and additional sensors with ease, allowing the user to custom tailor their drone.
The Fathom One is available on Kickstarter for early adopters at $499, which is $100 less than the future retail price. Fathom shirts are also available for $25 for those who wish to show their support. For more information about the Fathom One underwater drone, visit http://bit.ly/FathomOneKS.
ABOUT FATHOM
Fathom is a company that's dedicated to bringing underwater exploration and education to the masses. Whether it's experience, cost, or lack of technical knowledge, something has always stood in the way of the average individual learning more about what's happening under the surface of our bodies of water. That's why the co-founders at Fathom set out to design a drone system that would allow anyone to become a citizen explorer. Two years later, the Fathom One is finally here. For more information, visit http://www.fathomdrone.com.