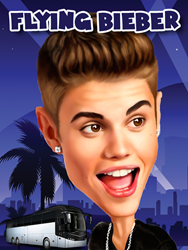 Flappy Bird was fun but Flying Balls is seriously addictive.
Clayton, NC (PRWEB) March 04, 2014
"Flappy Bird," an app created by Don Nguyen, changed the way people game. It was an addictive game that took the app world by storm, but it was pulled from the developer for personal reasons. Fortunately, new gaming company Fatty Mike's Gaming has created various new applications that provide hours of entertainment, much like "Flappy Bird" did. They have a mission to make over 40 family-friendly flappy games that people will enjoy, depending on the themes of other games they like. Their games are all compatible with Android devices, as well as the iPhone and iPad, and each one of their games contains high-quality graphics, as well as better features and online scoring. Through Google Play, games can also be played on a PC.
Fatty Mike's Gaming created "Flying Bieber - Just Believe," where Justin Bieber fans and haters alike can take hold of his head and fly throughout concert locations. Fans pose as obstacles, so gamers have to make sure he or she doesn't hit them, or Justin dies and the game is over. Some fans simply enjoy Killing Bieber over and over again for added pleasure.
Another game that "Flappy Bird" fans would enjoy is called "Big Flying Balls," which allows users to flap the wings of a big fat flying ball through various obstacles. The game contains better graphics than that of "Flappy Bird," as well as an invincibility button, which allows players to be invincible for ten seconds per level so they can get higher scores.
"Pigs N Space" was created by Fatty Mike's Gaming as well. It has a more user-friendly style than "Flappy Bird," with excellent graphics. Players can place a rocket on the back of a pig, and blast him into space where the pig has to avoid flying satellites. Users simply tap the screen to keep the pig afloat.
The fourth game that Fatty Mike's Gaming developed is titled "Floppy Zombie - The Flying Dead," which is a game where gamers play with a happy zombie head, and guide it through graves. It provides gamers with a spooky, yet fun element.
Founder Fatty Mike created the four games soon after "Flappy Birds" was removed from the app store. He is on a mission to provide people with fun and entertainment that will add quality to their lives by tapping away at their screen.Great new features are on the way like "Frustration" button that allows players to blow up the head they are using to try and get a high score.
###
Download and More Information - http://www.fattymikes.com
NOTE: All of our games have been released but "Flying Bieber" and "Pigs N Space" are still waiting release on iTunes. All other games are released on the Android market and iTunes.
Contact: Fatty Mike
Web: http://www.fattymikes.com