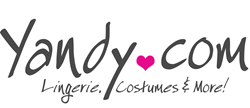 Phoenix, AZ (PRWEB) May 20, 2014
Women's lingerie and apparel web site, Yandy.com, has expanded the site's already vast collection of items to include a new line of faux leather lingerie complete with buckles, chains and grommets with prices starting as low as $18.95.
Every piece of the new faux leather line at Yandy.com features some sort of grommet, buckle or chain adding to the tough look often accompanied with leather-look lingerie. The faux leather bustier for $18.95, for example, features a silver chain under the bust line and the faux leather eyelet halter corset for $43.95 features buckles, zippers and multiple grommets. Other pieces from the new line include waist cinchers with working locks, a studded cropped moto vest and faux leather lingerie dresses with fashionable peplums.
Faux leather lingerie is a popular choice among lingerie aficionados and is a niche' market that Yandy.com has had numerous requests to incorporate on the site over the years. "We've had so many requests from loyal customers asking us to carry faux leather lingerie," says Chad Horstman, CEO of Yandy.com. "These customers want the option of buying leather-look lingerie without the expensive price tag traditional leather lingerie presents," added Horstman.
In addition to the new faux leather line now available on Yandy.com, every shopper receives free, flat rate shipping on orders over $70 as well as a free panty with every order.
About Yandy.com
E-commerce is on the rise and Yandy.com is one of the largest online retailers of lingerie, sexy Halloween costumes, swimwear and clothing on the web. Founded in 2005, Yandy boasts more than 7,000 products always in stock and at affordable prices. Yandy.com ensures that every customer will receive a safe, secure and private online shopping experience and is listed as a Google Trusted Store. Yandy.com is dedicated to customer service and only sells what is in stock which allows for quick, same day shipping. Offering the highest quality products at the most affordable prices in the market, Yandy.com has become a leader in e-commerce. In addition, the customer service team at Yandy.com is unrivaled. With attentive and helpful operators available seven days a week, should a question or problem arise, the customer service team at Yandy.com is always willing and able to assist. At Yandy.com, every customer can Be Sexy.
###