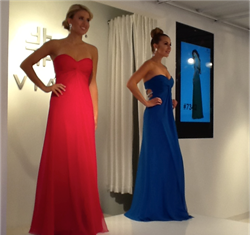 New York, NY (PRWEB) September 23, 2013
Faviana, the leader in creating the perfect dress for any special occasion, released their Spring 2014 - Prom 2014 collection on Friday and announces that it is now available for viewing at http://www.faviana.com.
The Spring 2014 - Prom 2014 Collection debuted at the Atlanta Market from August 7 – 12, 2013 and Faviana received exceptionally positive reviews from buyers and retailers around the country. This Collection features a number of trends including glitter jersey, pastel sequin, cut outs, patterned beading and lace.
Faviana's Spring 2014 Collection – Prom 2014, Faviana Glamour and Faviana Plus collections – was also shown at the Dallas Market from August 15-17, 2013; the Las Vegas Magic from August 19-21, 2013; and will be shown at the Chicago Market from September 28 – October 1, 2013 in Showroom #7-6102.
Faviana, a leader in the fashion industry and a designer and manufacturer of formal and prom dresses that caters to a customer who values style and sophistication, has mastered the art of creating the perfect dress for any occasion. Designed with the fashion "it-girl" in mind, Faviana speaks to a variety of chic, trendy and fashion forward consumers.
Follow Faviana's Prom collection on Twitter with the hashtag #FavianaProm2014. For more information about Faviana, please visit faviana.com. Like Faviana on Facebook and follow Faviana on Twitter and Instagram.