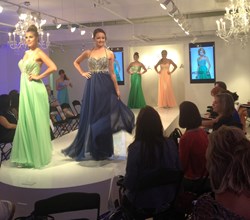 "Faviana's Spring 2014 Collection is fantastic! With great designs, beautiful colors and outstanding price points, I expect Faviana to once again be one of my best selling lines for prom season!"
New York, NY (PRWEB) August 21, 2013
Faviana, the leader in creating perfect the perfect dress for any special occasion, showed their Spring 2014 - Prom 2014, Faviana Glamour, and Faviana Plus collections at Atlanta Market from August 7 – 12, 2013 and received exceptionally positive reviews from buyers and retailers around the country.
Darren from Claire's in Delaware says, "Faviana's Spring 2014 Collection is fantastic! With great designs, beautiful colors and outstanding price points, I expect Faviana to once again be one of my best selling lines for prom season!"
According to Shauna from Elegant Expressions in Sioux Falls, S.D., Faviana's Spring 2014 Collection is one of the strongest collections of the season and will definitely bring up her business this year.
This year's Atlanta Market, 'Inside Glamour', took place from August 7-12, 2013 and showcased a variety of collections and special occasion wear including Holiday, Winter, Prom dresses, Pageant, European Resort, Quinceanera and Emerging Designer.
"We thought the Spring 2014 Collection was absolutely amazing, and expect it to be our best season yet," said Rachel from A Finer Moment in Spokane, W.A. "The cutting edge fashions of Spring 2014 can be worn for a glamorous evening, pageant or high school prom. Faviana is fashion forward, always on trend and at wonderful prices."
Faviana will also be present at Dallas Market from August 15-17, 2013 in Showroom #14856; Last Vegas Magic from August 19-21, 2013; and Chicago Market from September 28-October 1, 2013 in Showroom #7-6102.
Faviana, a leader in the fashion industry and a designer and manufacturer of formal dresses that caters to a customer who values style and sophistication, has mastered the art of creating the perfect dress for any occasion. Designed with the fashion "it-girl" in mind, Faviana speaks to a variety of chic, trendy and fashion forward consumers.
Follow Faviana's Prom collection on Twitter with the hashtag #FavianaProm2014. For more information about Faviana, please visit http://www.faviana.com. Like Faviana on Facebook and follow Faviana on Twitter and Instagram.