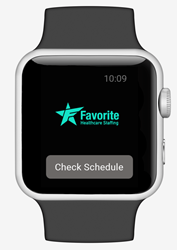 Partnering with Engage Mobile for our mobile strategy and development has been critical to our overall innovation plan, leveraging their productivity and expertise to fully integrate our processes to achieve both savings and efficiencies.
Overland Park, KS (PRWEB) October 12, 2015
Favorite Healthcare Staffing continues to be a leader in the healthcare staffing industry through technology development and innovation focused on accessible, highly functional and user-friendly interfaces for their clients and healthcare employees. The latest release of Favorite's Apple Watch app is but one example of the exciting innovations keeping Favorite at the cutting edge of the healthcare staffing industry.
Favorite's strategic partnership with Engage Mobile has allowed Favorite to create multi-platform applications for their employees and clients. From popular wearables like the Apple Watch to Favorite's complete migration from paper timekeeping processes to fully integrated mobile device scheduling and time entry, Favorite continues to fulfill its strategic mission of innovation created for the benefit and ease of use by clients and employees. In addition to the development and release of Favorite's multi-platform website in early 2015, development of "My Time Capture," Favorite's mobile app for scheduling, time entry and approval programming has been completed and implemented company-wide.
Favorite's "My Time Capture" mobile app for Google Android and Apple iOS devices has been enthusiastically embraced by both clients and employees.

Hospital and healthcare clients benefit from increased accuracy of Favorite employee timecards which include detailed cost centers, time stamp, authorized signor and even the GPS location where the digital timecard was approved.
Favorite's healthcare employees enjoy the benefit of easy digital submission of their approved hours worked, as well as increased accuracy and immediate email confirmation when their timecard is received. For Apple users, the Apple Watch app enhances the process by providing reminder notifications to enter and submit time before leaving the client facility.
In partnership with Engage Mobile, Favorite looks forward to ongoing innovation through time-saving developments to increase accuracy and effectiveness throughout the employee work experience. According to Bill Marshall, Favorite's CIO, "Partnering with Engage Mobile for our mobile strategy and development has been critical to our overall innovation plan, allowing us to leverage their productivity and expertise to fully integrate our processes, achieving both staff savings and production efficiencies." This partnership provides solid positioning for Favorite's continued mobile app development with employee scheduling programming slated for release in early 2016. This new mobile functionality will allow Favorite employees to manage their schedules up to six weeks in advance from their phones and tablets. They will also be able to apply for positions which match their qualifications, experience and availability, as well as providing a calendar function showing past and future scheduling and time entry status.
Engage Mobile specializes in mobile strategy, development and deployment. The company's deep expertise in the healthcare software space allows them to develop unique and highly customized solutions for companies like Favorite Healthcare Staffing. According to Steve Timperley, VP at Engage Mobile, "Engage Mobile is thrilled to work with incredibly innovative companies such as Favorite Healthcare. Favorite is a highly visionary company and we are excited to be working with them to revolutionize their segment of the healthcare industry."
Favorite has continued to lead the industry since 1981 in development of contingent staffing and scheduling technologies and software solutions for the benefit of their clients and employees. Kathy Perry, President of Favorite, shares, "Innovation is the critical component that keeps Favorite the employer of choice in this highly competitive marketplace. We are committed to our employees and our clients, and that commitment is evident in our development of responsive and easily accessed technologies. Our focus continues to echo and reflect our culture and our mission: We're your Advocate. We're your Family. We're your Favorite."
As a premier national healthcare staffing and services provider, Favorite Healthcare Staffing provides a wide range of nursing, advanced practice, and allied health professionals to healthcare organizations throughout the U.S. through temporary, contract, travel and direct hire placement. Favorite's large employee and client base, in conjunction with developing cutting edge multi-platform programs and mobile apps, allows Favorite and Engage Mobile to offer unique technologies to ensure functionality and success as their new product offerings are developed and implemented throughout their organization.
ABOUT FAVORITE HEALTHCARE STAFFING
Since 1981, Favorite Healthcare Staffing has served a wide variety of healthcare organizations, staffing highly trained, top-quality nursing, allied health, and medical professionals in a variety of specialties and settings across the US. Proudly displaying the "Gold Seal of Approval" from The Joint Commission Health Care Staffing Services, Favorite offers nationwide contract, per diem and direct hire staffing opportunities for healthcare and medical professionals. In addition to traditional medical staffing, Favorite Healthcare's comprehensive range of services includes project staffing, disaster relief, EMR conversions and complete vendor management and workforce solutions. Favorite's commitment to their employees has remained a cornerstone value in every aspect of their business. Employee appreciation was illustrated recently as Favorite was recognized as one of North America's 2015 Best Staffing Firms to Work For by the prestigious Staffing Industry Analysts. Learn more about Favorite Healthcare Staffing at http://www.FavoriteStaffing.com or call 800-676-3456.
ABOUT ENGAGE MOBILE SOLUTIONS
Engage Mobile Solutions is an award-winning mobile app and mobile software development company with a focus on mobile strategy and mobile deployment. Based in Kansas City, Mo., the firm helps companies leverage mobile technology and drive profitability through increasing revenue, decreasing costs, and managing risk. The company was named one of the "Most Promising Enterprise Mobility Companies in the United states" by CIO Review, chosen as one of the "Top Companies in Kansas City With Under 25 Employees" by Thinking Bigger Business Media, and was selected a finalist for the Appy Awards by MediaPost Communications. For more information about Engage Mobile Solutions, visit http://www.engagemobile.com or contact Matthew Barksdale at mbarksdale(at)engagemobile(dot)com.