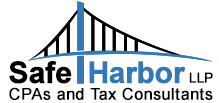 We have many requests from clients and interested parties on FBAR compliance and information resources.
(PRWEB) May 28, 2014
Safe Harbor LLP, a CPA Firm specializing in FBAR compliance issues, is proud to announce the publication of its latest bulletin on FBAR, with a compilation of official information resources on FBAR (Foreign Bank and Financial Accounts).
"Ours is an international practice," explained Chun Wong, CPA, managing partner at Safe Harbor LLP. "We have many requests from clients and interested parties on FBAR compliance and information resources; hence, we published this informative list."
To read the bulletin on FBAR, please visit http://www.safeharborcpa.com/fbar-compliance/. There, in addition to this post, one can find several blog posts on FBAR and international tax issues.
The Need for Information on FBAR
With the growth in international trade and business, more and more American citizens and foreigners living in the United States have foreign assets. For example, many foreign residents and US citizens often have overseas bank accounts in places like Switzerland, often for the most innocent of reasons. Other times, people unfortunately attempt to 'hide' income and assets from the Internal Revenue Service. Therefore, the IRS has recently increased its enforcement efforts of US tax law, and many people are afraid of being in non-compliance with US tax laws and regulation concerning bank and financial accounts overseas. The first step for most interested parties is to educate themselves on FBAR, at least at the level of an educated citizen. For most taxpayers, the next step is to reach out to a CPA firm that has experience in international tax.
IRS Circular 230 Notice
The Internal Revenue Service requires Safe Harbor LLP to inform the reader that any tax advice contained in this correspondence cannot be used for the purpose of avoiding penalties under the Internal Revenue Code or for promoting, marketing or recommending to another party any transaction or matter addressed.
About Safe Harbor LLP – a Professional CPA Firm in San Francisco
Safe Harbor LLP is a CPA firm that specializes in accounting and tax services for individuals and businesses throughout the San Francisco Bay Area and greater California. Safe Harbor CPAs helps both individuals and businesses with tax preparation, IRS audit defense, and audited financial statements. The firm prides itself on friendly yet professional service and utilizes state-of-the-art Internet technology to provide quality customer service.
Safe Harbor CPA
http://www.safeharborcpa.com
Tel. 415.742.4249