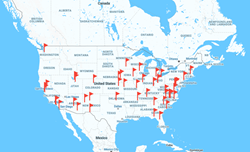 The intentional architecture and engineering of CAI's commercialization of cancer inventions in this challenge will serve to create a new paradigm to drive positive industry disruption, economic impact, and most importantly, social impact. - R. Truman
Bethesda, MD (PRWEB) July 07, 2017
The Center for Advancing Innovation, the world's largest virtual startup challenge-based accelerator, announced today the 100+ breakthrough cancer inventions that will be commercialized through the Freedom from Cancer Startup Challenge (FCSC).
As CAI's largest challenge to date, the FCSC has the potential to create as many as 10,000 knowledge-based jobs and 100 oncology-focused startups. The Laura and John Arnold Foundation has committed $1.2 million in funding towards the FCSC. The challenge was also launched with support from MedImmune, the global biologics research and development arm of AstraZeneca.
The breakthrough inventions came from 55 institutions, including the National Institutes of Health (National Cancer Institute, National Heart, Lung, and Blood Institute, and National Institute of Biomedical Imaging and Bioengineering), the United States Army, and more than fifty American universities and hospitals. To identify these breakthrough inventions, CAI reviewed over 120,000 cancer-related patent applications, filed since 2005, and selected the top 1% from a total of 134 research institutions for deep dive due diligence. CAI then shortlisted the most promising 200 cancer-related inventions from a list of 400 technologies, made available for exclusive licensing by 63 research institutions that CAI engaged. From this short list, CAI and a 15-member FCSC invention selections committee cherry-picked 100+ commercially viable inventions to feature in the competition. Members of the selection committee included senior executives from MedImmune, Pfizer, and Novartis, as well as super angels, serial entrepreneurs, venture capitalists, and foundations.
"CAI's track record in launching Life Sciences startups is outstanding and the FCSC initiative further establishes a new paradigm to kick start new cancer companies and is a force multiplier for the oncology ecosystem. CAI's systematic model establishes the trifecta necessary for high performing biotech companies - commercially viable inventions, rock star teams and funding - to get treatments to patients faster." - Jim Greenwood, BIO's President and CEO. Rosemarie Truman, Founder and CEO of CAI added, "The intentional architecture and engineering of CAI's commercialization of cancer inventions in this challenge will serve to create a new paradigm to drive positive industry disruption, economic impact, and most importantly, social impact."
Anyone with an entrepreneurial spirit and drive to cure cancer should look at the inventions now, form a team, and be ready to enter on August 1st. Seasoned entrepreneurs and industry experts may also participate in the Freedom from Cancer Startup Challenge as an ambassador, cheerleader, mentor, advisor, judge, or sponsor; state your interest in joining here. For more details, visit http://www.freedomfromcancerchallenge.org.
About the Center for Advancing Innovation
The Center for Advancing Innovation (CAI) is a global public-private partnership, non-profit focused on creating a virtuous circle of innovation and driving growth breakthroughs through novel, creative paradigms and models. CAI's mission is to accelerate and increase the volume of research commercialization in support of high growth business to ignite entrepreneurship, bolster the global economy, and maximize the commercial and knowledge-based potential of promising inventions. CAI's award-winning challenge-based accelerator, rigorous evidence-based due diligence, and capital-efficient lean management models serve to hyper-accelerate "gazelle" high-performing startups for outsized investor returns. Through its NIH-sponsored Breast Cancer Startup Challenge, Neuro Startup Challenge, and Nanotechnology Startup Challenge in Cancer competitions, as well as its NASA-supported SPACE RACE startup challenge, CAI has launched 58 startups and trained more than 2000 entrepreneurs. For additional information about CAI, visit http://www.thecenterforadvancinginnovation.org.