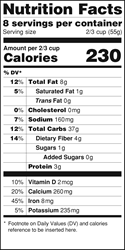 If passed, the food and beverage industry can expect several new requirements and major changes to their product labels.
Hampton, Virginia (PRWEB) March 03, 2014
The U.S. Food and Drug Administration (FDA) released two new proposed rules on February 27, 2014 that would affect the retail labeling of all food and beverages sold in the United States. These actions are being taken, in part, in response to recommendations of the 2003 FDA Obesity Working Group and FDA's recognition that portion sizes have changed since the original serving size regulations were published in 1993. FDA Commissioner Margaret A. Hamburg, M.D. and First Lady Michelle Obama announced the initiative together. If passed, the food and beverage industry can expect several new requirements and major changes to their product labels.
FDA's proposed rules would require changes to the Nutrition Facts Chart on packages. FDA has required that packages include a Nutrition Facts Chart for the past 20 years. The passage of the Nutrition Labeling and Education Act (NLEA) allowed FDA to require specific nutritional information be declared on foods sold in the U.S. Since then, an entire part of the Code of Federal Regulations (CFR) has been devoted to the labeling requirements.
Food and beverage manufacturers should note that the proposed rules indicate specific changes to nutrition information including:

Amending the definition of "Serving Size"
Stating the amount of "added sugars" in a food product
Updates to serving size requirements
Mandating "dual column" labels for packages that have more than one serving size. This would include a column with nutrition information for the designated serving size and for the package as a whole
Requiring foods declare the amount of potassium and vitamin D
Revisions to the Daily Values for a variety of nutrients
Changes to the formatting of labels
"These proposed rules represent one of the biggest changes to FDA food and beverage labeling regulations since 2006 when trans fat was first required to appear on labels," states David Lennarz, Vice President of Registrar Corp. The proposed changes would affect foods, beverages, and dietary supplements, where applicable.
The Food and Beverage industry should note that FDA has yet to publish the Proposed Rules, but the pre-published versions are available at the Federal Register website. [1][2] FDA expects to publish the Proposed Rules on March 3, 2014. Once published, industry will have 90 days to submit comments on the proposed rules. FDA will consider those comments when drafting the regulations to be promulgated in the final rules. The final rules become effective 60 days after publication. Industry will have two years after this effective date to comply. Registrar Corp will continue to provide industry with information about changes to U.S. FDA food and beverage regulations. Registrar Corp's Label Review Service provides detailed analysis of product labeling to ensure that each label incorporates the numerous regulations that govern the format and content of food labels.
About Registrar Corp: Registrar Corp is a FDA Consulting firm that helps companies with U.S. FDA Regulations. Founded in 2003, Registrar Corp has assisted more than 20,000 companies to comply with FDA requirements. With 16 global offices, Registrar Corp's team of multilingual Regulatory Advisors can help your company to comply with U.S. FDA Regulations. For immediate assistance with U.S. FDA Regulations, phone Registrar Corp: +1-757-224-0177 or receive online Live Help from our regulatory specialists: http://www.registrarcorp.com/livehelp. Tweet Registrar Corp (@RegistrarCorp) with specific questions.
[1] 2 https://www.federalregister.gov/articles/2014/03/03/2014-04385/serving-sizes-of-foods-that-can-reasonably-be-consumed-at-one-eating-occasion-et-al-food-labelings