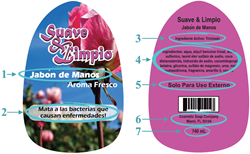 Once FDA finds one mistake, the agency is more likely to stop your facility's products at the port of entry in the future.
Hampton, Virginia (PRWEB) October 22, 2014
Every country has its own food labeling requirements, and the United States is no different. Food and beverages distributed in the USA are regulated by the U.S. Food and Drug Administration (FDA), and FDA has strict requirements for what and how information is displayed on food and beverage labels. So far in 2014, FDA has identified approximately 5029 labeling violations on products being offered for import from foreign countries. The most prevalent violation has been failure to bear the required nutrition information on food and beverage labels.
Labeling errors are one of the biggest reasons imports are refused entry into the U.S. by FDA. FDA has seventy violation codes regarding labeling issues. If a product has one of these label violations, FDA may refuse the product and deem the product "misbranded" under the Food, Drug, and Cosmetic Act, making it a prohibited act to distribute the product in the United States. FDA can bring a civil or criminal action against a person guilty of committing a prohibited act. Also, once FDA finds one mistake, the agency is more likely to stop the facility's products at the port of entry in the future. For example, FDA has an import alert specific to nutritional labeling violations. If a product is found to be in violation of certain nutritional labeling regulations, it is noted in FDA's system. If the same product is found to be in violation again 60 or more days after the initial violation, that product will be added to the import alert and be subject to detention without physical examination (DWPE).
FDA may also find labeling violations during a routine facility inspection. Under the Food Safety Modernization Act (FSMA), FDA is increasing the number of foreign inspections it conducts each year. By 2016, all facilities distributing products in the U.S. can expect to be inspected every 3 to 5 years, with high risk facilities being inspected most frequently. If FDA finds a non-compliant label during an inspection, the agency may feel the need to reinspect the facility at a later date to ensure the proper changes have been made. Under FSMA, FDA has the authority to administer hourly reinspection fees. The cost for a facility located outside the U.S. is $305 USD per direct hour spent on the resinspection, including the time it takes FDA to prepare for the reinspection and travel to and from the facility.
One common mistake made in the labeling of foods and beverages is the inclusion of inappropriate claims. FDA strictly regulates the types of health-related claims that may be made on foods and beverages. "Health claims" are those that link a food, food component, or dietary supplement ingredient with a reduced risk of a disease or health-related condition. Health claims must be specifically authorized by FDA. "Qualified health claims" do not meet the FDA's standard for a health claim and must be the subject of a letter of enforcement discretion from FDA. "Nutrient content claims" are explicit and implied claims that characterize the level of a nutrient in a food or dietary supplement, such as "high in fat," and "low in sodium." Whether it is permitted will be dependent upon the percent of the Daily Recommended Value or Recommended Daily Intake for the referenced nutrient that is present per serving. Other criteria may apply as well, and additional disclaimers may be required to be declared in certain cases. "Structure/function" claims are those that describe the role of a nutrient or dietary ingredient intended to affect normal structure or function in humans, characterize the means by which a nutrient or dietary ingredient acts to maintain such structure or function, describe general well-being from consumption of a nutrient or dietary ingredient, or describe a benefit related to a nutrient deficiency disease (like vitamin C and scurvy). For conventional foods, structure/function claims must be made based on nutritive value and cannot reference disease. Foods and beverages that bear labels with inappropriate disease claims will be regulated as drugs, meaning FDA may refuse and even detain the product as an "unapproved new drug."
It's best to have food and beverage labels reviewed for FDA compliance before shipping products to the U.S. to avoid high costs and delays. If a company is unsure about whether a product label complies with U.S. FDA regulations or need help adapting the product label, Registrar Corp, an FDA compliance firm, can help. The firm offers a label review service through which they will review your product label and modify it for FDA compliance. Registrar Corp Regulatory Specialists will cross reference the food labeling against thousands of pages in the Code of Federal Regulations and return a detailed report explaining the recommended changes and a revised, print-ready graphic file of the label. Registrar Corp will review the edits of the food label within 90 days of the initial report for no extra cost.
Along with their label review service, Registrar Corp offers registration and renewal services. Don't forget that all food facilities are required to renew their FDA registrations before December 31, 2014. For more information about FDA food and beverage regulations, contact Registrar Corp at +1-757-224-0177 or receive online Live Help from a Regulatory Advisor: http://www.registrarcorp.com/livehelp.