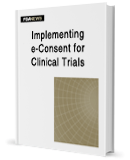 Falls Church, VA (PRWEB) December 12, 2013
Implementing e-Consent for Clinical Trials:
Pitfalls and Practical Considerations
**FDAnews Management Report**
http://www.fdanews.com/CTeconsent
Long, dense clinical trial informed consent documents may satisfy the lawyers, but they don't satisfy anyone else. They're difficult for study subjects to understand. Time consuming for investigators to deliver. Arduous to audit and monitor. And, as changes to study documents take place, the forms are a version control nightmare.
All that is why some sponsors and CROs are looking toward electronic consent. The benefits are readily apparent: faster enrollment, more reliable communication of risks, and reduced compliance headaches. But there are some things they need to know before taking the jump to e-consent…
The challenges of e-consent fall into two categories: technical and regulatory. If done right, adopting e-consent technology will yield tremendous benefits. In this management report, learn how the technology of e-consent can:

Overcome language and literacy barriers
Simplify data gathering and remote monitoring
Maintain version control and audit trails
Speed up trial enrollment
Improve investigator compliance
In addition, the report offers a step-by-step approach to making sure e-consent processes align with regulatory requirements. It shows:
How to work with the IRB when initiating e-consent
Essential features that every e-consent system must have for compliance
Optional features to look for to get the most out of the e-consent process
Tips for monitoring and auditing e-consents, and
Some key compliance pitfalls to avoid during the transition to e-consent
Implementing e-Consent for Clinical Trials:
Pitfalls and Practical Considerations
**FDAnews Management Report**
http://www.fdanews.com/CTeconsent
FORMAT: Print or PDF
PRICE: $397
EASY WAYS TO ORDER
Online: http://www.fdanews.com/CTeconsent
By phone: 888-838-5578 or 703-538-7600
ABOUT FDANEWS
FDAnews is the premier provider of domestic and international regulatory, legislative, and business news and information for executives in industries regulated by the US FDA and the European Medicines Agency. Pharmaceutical and medical device professionals rely on FDAnews' print and electronic newsletters, books and conferences to stay in compliance with international standards and the FDA's complex and ever-changing regulations.