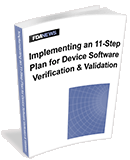 Falls Church, VA (PRWEB) May 15, 2014
Implementing an 11-Step Plan for Device Software Validation and Verification
**FDAnews Management Report**
http://www.fdanews.com/DeviceSoftwareVerVal
GMPs make it perfectly clear: All working parts of any medical device must be verified and validated. Period.
But how this requirement applies to software components is still a little sketchy.
Don't take the chance of being hit with a 483 or warning letter.
Use this new management report to develop a solid risk-based software validation plan that will pass any FDA inspection.
The FDA is cracking down on companies that don't carry out device software verification and validation, issuing an increasing number of 483s and warning letters to 1) manufacturers of medical devices with embedded software, and 2) manufacturers of software used as a device itself.
With this new report, readers will find out exactly what FDA inspectors are being trained to look for in terms of device software verification and validation. And learn how:

To meet agency expectations, particularly what needs to be documented
To develop a risk-based software validation and verification plan that fits within the company's overall validation plan
To make the plan flexible enough to apply to a variety of products with a range of risk profiles
To interpret and apply FDA guidances, GAMP 4/5, 21 CFR Part 11, ISO 14971, ICH Q9 and other applicable industry software validation models
And then readers will learn to set up an 11-step plan for device software validation and verification, including how to:
1. Perform risk analysis
2. Determine level of concern
3. Describe the software
4. Formulate requirements specifications
5. Develop design specifications
6. Create an architecture design chart
7. Craft a software development environment summary document
8. Document validation and verification testing
9. Perform a traceability analysis
10. Determine unresolved anomalies
11. Maintain a log of revision and release numbers
Find out what the FDA accepts as an appropriate documentation model, their expectation for testing software, ERP software and, when and how to use design qualification, installation qualification, operational qualification and performance qualification.
With Implementing an 11-Step Plan for Device Software Validation and Verification, readers will gain a clear understanding of what the FDA is looking for and the how-to instructions that will help them pass an inspection with flying colors.
Who Will Benefit:

Quality assurance managers
Regulatory affairs officers
Software developers
Software programmers
Documentation specialists
Software testers
R&D managers
Engineers
Production managers
Operations managers
Meet the Author:
This report is largely based on information provided during a recent FDAnews webinar led by John Lincoln, a principal with J.E. Lincoln and Associates. Mr. Lincoln has nearly 20 years of experience as an FDA consultant.
Management Report Details:
Implementing an 11-Step Plan for Device Software Validation and Verification
**FDAnews Management Report**
http://www.fdanews.com/DeviceSoftwareVerVal
Format: Print or PDF
Price: $397
Easy Ways to Order:
Online: http://www.fdanews.com/DeviceSoftwareVerVal
By phone: 888-838-5578 or 703-538-7600
About FDAnews:
FDAnews is the premier provider of domestic and international regulatory, legislative, and business news and information for executives in industries regulated by the US FDA and the European Medicines Agency. Pharmaceutical and medical device professionals rely on FDAnews' print and electronic newsletters, books and conferences to stay in compliance with international standards and the FDA's complex and ever-changing regulations.