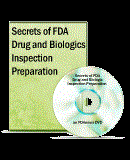 Falls Church, VA (PRWEB) December 23, 2013
Secrets of FDA Drug and Biologics Inspection Preparation
**FDAnews DVD Training Course**
http://www.fdanews.com/DrugInspectionPrep
Imagine if inspections guru Fred Branding (who's both a registered pharmacist and a lawyer) conducted your companies next inspection prep training session. The impact on the team could be dramatic, the insights enlightening and the confidence the team gains invaluable.
Recently, Mr. Branding taught a comprehensive drug and biologics inspection prep course — and FDAnews was there to film it. In a dynamic, content-loaded DVD, with multiple companion training aids, viewers will discover specific strategies and techniques for being ready for anything the FDA's inspectors throw at them.
Managing and leading people through an FDA inspection is a combination of art and science. And no one knows this better than Fred Branding. He's shepherded firms through hundreds of inspections.
In this exclusive DVD, Mr. Branding pulls back the curtain that shrouds FDA operations in mystery and shows the inspector's side of the equation:

How they prepare when they get the assignment to inspect a company
What resources they review about the operations before they set foot on the property
What training documents and regulations they must follow as part of the inspection
How they craft 483 observations when they find problems
With a detailed 150-minute DVD and six other training aids included, this high-content program will benefit everyone from the entry-level quality manager to the chief executive officer.
Viewers will discover how to set up an Establishment Inspection Plan that will have things running like clockwork on inspection day, from the moment the inspector arrives to the wrap up-meeting.
The instructor, industry expert Fred Branding, covers:
Developing inspection planning SOPs
Which documents are confidential and how to handle them
How to answer inspectors' questions fully — but not too fully
What never to say to an FDA inspector
Credentials inspectors must present before being allowed entry
How to discuss inspectors' observations — without arguing
Making corrections during the inspection that satisfy the inspector
Internal communication about the inspection
Involving senior management in reviewing inspection results
But suppose, despite best efforts, the company is still issued a 483? Here's where Secrets of FDA Drug and Biologics Inspection Preparation pays for itself, with:
Six crucial steps in responding to a Form 483, and
Ten common mistakes manufacturers make in responding to 483s and warning letters.
The DVD also includes a companion CD with these valuable resources:
A hypothetical inspection scenario for use in inspection training
Printable presentation slides in note-taking format
Guide to preparing your subject matter experts for inspection
Guide: How the FDA Trains its Inspectors
FDA Guidance, "Circumstances that Constitute Delaying, Denying, Limiting, or Refusing a Drug Inspection"
Sample FDA Forms 482: Notice of Inspection; and 483: Inspectional Observations
An inspection readiness plan is your best insurance against regulatory snarls and hassles.
Meet the Instructor:
Frederick Branding RPh, JD, is a principal attorney with the Washington, DC, law firm of OFW Law and resides in Chicago, IL. He is a registered pharmacist with extensive experience in pharmaceutical, food, drug, medical device, and cosmetic regulatory compliance and enforcement issues, including assisting medical products manufacturers in responding to government inspections, warning letters, investigations and litigation. Representation includes seizures, injunctions and prosecutions, as well as private litigation between businesses. Prior to joining OFW Law, Mr. Branding was in private law practice; served as an assistant U.S. attorney and Chief of the Civil Division for the Northern District of Illinois; and Chief of the Psychotropic Drugs Unit of the U.N. International Narcotics Control Board in Vienna, Austria. As an assistant U.S. attorney, he twice received the FDA Commissioner's Special Citation for outstanding contributions in the field of food and drug law enforcement.
DVD Training Course Details:
Secrets of FDA Drug and Biologics Inspection Preparation
**FDAnews DVD Training Course**
http://www.fdanews.com/DrugInspectionPrep
Format: DVD
Price: $397
Easy Ways to Order
Online: http://www.fdanews.com/DrugInspectionPrep
By phone: 888-838-5578 or 703-538-7600
About FDAnews
FDAnews is the premier provider of domestic and international regulatory, legislative, and business news and information for executives in industries regulated by the US FDA and the European Medicines Agency. Pharmaceutical and medical device professionals rely on FDAnews' print and electronic newsletters, books and conferences to stay in compliance with international standards and the FDA's complex and ever-changing regulations.