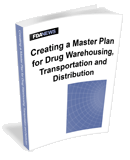 Falls Church, VA (PRWEB) March 26, 2014
Creating a Master Plan for Drug Warehousing, Transportation and Distribution
**FDAnews Management Report**
http://www.fdanews.com/DrugWarehousingReport
Did a truck driver just ruin a drug shipment?
Not only do drugmakers need to protect their drugs from tampering, they must shield drugs from the extremes of heat and cold during transit, and store and dispense products so they're as safe and effective as they were when they left the plant.
That means drugmakers need to begin now to create a master plan that establishes how their distribution chain will protect the integrity of their products, from the very beginning of the supply chain all the way to the customer's doorstep.
These new requirements are complex, and creating a master plan will be no easy task. In the plan, drugmakers must address:

Infiltration of falsified medicinal products into the distribution chain or the theft of medicinal products from the chain.
Regulating temperature and other environmental factors that drugs are exposed to, even when they are in the control of third-party transport companies or warehouses.
Ensuring that the drugs are distributed with appropriate speed, using first-in first-out principles to deliver drugs well before expiration.
Ensuring that everyone in the distribution chain is adequately trained on implementing the requirements of the distribution master plan.
And more…
There's no denying that it's going to be an incredible amount of work to create and manage a master plan. That's why the editors of FDAnews have developed Creating a Master Plan for Drug Warehousing, Transportation and Distribution.
This report is the ultimate guide to preparing drugmakers for compliance with Good Distribution Practice (GDP). Step by step, it walks through the planning and implementation process, including the six key requirements included in the EU's GDP guidelines:
1. Procurement, storage, delivery and export of medicinal products in conformity with GDP
2. Definition of managerial competence and responsibility
3. Shipment of medicinal products
4. Prompt provision of documentation
5. Documentation and follow-up on deviations
6. Initiation of CAPA actions
With the EU rules already in place, enforcement will not be far behind. Now is the time to make sure a distribution master plan is in place and fully up to date.
What Drugmakers Will Learn:

The challenges to be faced in validating a global transport chain
The procedure for validating a cold chain
Aspects to consider in shipping by refrigerated trucks
What storage conditions apply for medicinal products requiring special conditions (frozen, refrigerated, ambient)
The transport requirements found in pharmacopoeias and relevant guidelines
The role risk management plays in transport
And much more…
Who Will Benefit:

Pharmaceutical plant managers
Quality assurance managers
GDP managers
GMP managers
Supply chain managers
Cool chain and cold chain process managers
Product safety managers
Risk managers
Transportation managers
Regulatory affairs managers
Packaging managers and repackagers
Trucking managers
Air freight managers
Pharmacists
Meet the Authors:
Christoph Frick is the head of pharmaceutical development at Kohlpharma in Germany. He has worked for years at Kohlpharma and other companies as the head of quality assurance, good manufacturing practice, good documentation practice, cool chain processes, risk management, qualification and validation, auditing, business development and regulatory affairs.
Nicola Spiggelkötter is a pharmaceutical consultant with years of experience in quality assurance and API sourcing, cold chain process optimization, audits, staff training and risk management.
Management Report Details:
Creating a Master Plan for Drug Warehousing, Transportation and Distribution
**FDAnews Management Report**
http://www.fdanews.com/DrugWarehousingReport
Format: Print or PDF
Price: $397
Easy Ways to Order:
Online: http://www.fdanews.com/DrugWarehousingReport
By phone: 888-838-5578 or 703-538-7600
About FDAnews:
FDAnews is the premier provider of domestic and international regulatory, legislative, and business news and information for executives in industries regulated by the US FDA and the European Medicines Agency. Pharmaceutical and medical device professionals rely on FDAnews' print and electronic newsletters, books and conferences to stay in compliance with international standards and the FDA's complex and ever-changing regulations.