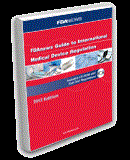 Falls Church, VA (PRWEB) February 17, 2014
Guide to International Medical Device Regulation — 2014 Edition
**FDAnews Publication**
http://www.fdanews.com/IMDRM14
In medical device manufacturing, success means staying abreast of regulatory changes from Argentina to the United Kingdom ... and beyond.
Impossible? Not at all. Here's how:
Announcing publication of the 2014 edition of the Guide to International Medical Device Regulation
It's the one-stop authority for quick, accurate answers to all questions on the fastest moving regulatory topics:

New device regulatory frameworks in the EU, Japan and India
Changes in inspection practices, including the single audit program
Changes to quality manufacturing requirements
New IMDRF standards
Sunshine and transparency regulations
UDI requirements
Safety monitoring
Computer programs embedded in devices
Ever-changing registration requirements
And dozens more key topics in device regulation worldwide
International compliance is no longer simply a matter of following the same old rules. Enforcement activities and practices are changing. Countries are beginning to share data about manufacturing firms, increase the number of inspections and crack down on issues such as counterfeiting and improper marketing. Devicemakers learn the new rules of the game or cede the playing field to competitors.
That's where the FDAnews Guide to International Medical Device Regulation — 2014 Edition comes in. Our editors monitor and report on regulatory developments affecting device production in more than 45 nations around the world. They've compiled more than 150 reports highlighting changes from the past year that will keep devicemakers growing in international markets.
Readers will turn to this total regulatory reference time and again in the months ahead. It will become the one-stop source for:
Coverage of the EU, Asia, Latin America, the Middle East, North America and Australia/Pacific
Essential international regulatory changes from all of 2013
Comprehensive summaries and explanations of the changes
Key regulations – full-text printouts
And much more!
To compete internationally, devicemakers must comply internationally. It's a lesson the competitors have learned. Don't get left behind.
Publication Details:
Guide to International Medical Device Regulation — 2014 Edition
**FDAnews Publication**
http://www.fdanews.com/IMDRM14
Format: Print or CD
Price: $387
Easy Ways to Order:
Online: http://www.fdanews.com/IMDRM14
By phone: 888-838-5578 or 703-538-7600
About FDAnews:
FDAnews is the premier provider of domestic and international regulatory, legislative, and business news and information for executives in industries regulated by the US FDA and the European Medicines Agency. Pharmaceutical and medical device professionals rely on FDAnews' print and electronic newsletters, books and conferences to stay in compliance with international standards and the FDA's complex and ever-changing regulations.