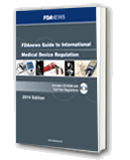 Falls Church, VA (PRWEB) January 29, 2015
Guide to International Medical Device Regulation — 2015 Edition
**FDAnews Publication**
http://www.fdanews.com/IMDRM2015
In medical device manufacturing, success means staying abreast of regulatory changes from Argentina to the United Kingdom and beyond.
Impossible? Not at all.
FDAnews' editors monitor and report on regulatory developments affecting device production in more than 22 nations around the world plus the EU. They've compiled more than 150 reports highlighting changes from the past year that will keep devicemakers growing in international markets.
Devicemakers will turn to this total regulatory reference time and again in the months ahead. It's the one-stop authority for quick, accurate answers to all of their questions on the fastest-moving regulatory topics they face including:

Unannounced inspections in the EU
UDI requirements in the U.S. and around the world
The EU's continued debate on major overhaul to device and IVD regulations
Comprehensive new device regulations in China
New, device-specific regulations in Japan
South Africa's revived push to regulate devices
And dozens more key topics in device regulation worldwide
To compete internationally, devimakers must comply internationally. Don't get left behind.
Publication Details:
Guide to International Medical Device Regulation — 2015 Edition
**FDAnews Publication**
http://www.fdanews.com/IMDRM2015
Format: Print or CD
Price: $387
Easy Ways to Order:
Online: http://www.fdanews.com/IMDRM2015
By phone: 888-838-5578 or 703-538-7600
About FDAnews:
FDAnews is the premier provider of domestic and international regulatory, legislative, and business news and information for executives in industries regulated by the US FDA and the European Medicines Agency. Pharmaceutical and medical device professionals rely on FDAnews' print and electronic newsletters, books and conferences to stay in compliance with international standards and the FDA's complex and ever-changing regulations.