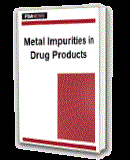 Falls Church, VA (PRWEB) January 31, 2014
Metal Impurities in Drug Products:
Charting a Course in an Uncertain Regulatory Landscape
**FDAnews Management Report**
http://www.fdanews.com/MetalImpurities
Regardless of how eventual harmonization efforts among the ICH, USP and EU authorities work out, manufacturers are soon going to have to contend with a substantial shift in metal impurity standards.
Certainly, they're looking at significant changes in technology to ensure that facilities can test to the new, lower limits.
Manufacturers also have to plan for working more closely with their excipient and active pharmaceutical ingredient (API) suppliers to be sure they're properly testing for metal impurities — and doing so on a regular basis. After all, their compliance is the manufacturers responsibility.
These are major changes — and they won't be accomplished without a significant financial commitment. Getting them right the first time is key to success, as well as ROI.
That's why FDAnews' Metal Impurities in Drug Products: Charting a Course in an Uncertain Regulatory Landscape is essential reading.
With it, readers will get guidance on such key items as how to:

Build metal impurity testing in risk management plans
Develop processes and procedures for impurity analysis
Oversee raw material suppliers to ensure compliance
Determine whether and how to choose the right contract laboratory (if a manufacturer prefers not to conduct the testing in-house)
And more
Manufacturers will also rely on this new report to learn in detail about:

The potential impact of the Q3D guidelines
How the Q3D guidelines harmonize with USP Chapters 232 and 233
The essential revised Chapters 232 and 233
The risk assessment companies should conduct to control elemental impurities in products
Advantages of component testing and how to conduct it
Who Will Benefit:

Chemical analysis and elemental impurities experts
Pharmaceutical plant managers
Quality managers
Drug safety officers
Regulatory affairs officers
API supply officers
GMP managers
Meet the Author:
Nancy Lewen is a specialist in atomic spectroscopy techniques, with more than 25 years of experience at Bristol-Myers Squibb. Ms. Lewen is also a member of the USP Chemical Analysis Expert Committee, USP Elemental Impurities Advisory Panel and USP Modernization and Waters Subcommittee.
Management Report Details:
Metal Impurities in Drug Products:
Charting a Course in an Uncertain Regulatory Landscape
http://www.fdanews.com/MetalImpurities
Format: Print or PDF
Price: $397
Easy Ways to Order:
Online: http://www.fdanews.com/MetalImpurities
By phone: 888-838-5578 or 703-538-7600
About FDAnews:
FDAnews is the premier provider of domestic and international regulatory, legislative, and business news and information for executives in industries regulated by the US FDA and the European Medicines Agency. Pharmaceutical and medical device professionals rely on FDAnews' print and electronic newsletters, books and conferences to stay in compliance with international standards and the FDA's complex and ever-changing regulations.