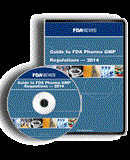 Falls Church (PRWEB) December 16, 2013
Guide to FDA Pharma GMP Regulations — 2014
**FDAnews Publication **
http://www.fdanews.com/PharmaGMP
The Guide to FDA Pharma GMP Regulations — 2014 is a compilation of pharmaceutical GMP regulations that puts all the authoritative information you need in one place.
Delivered on CD, this comprehensive, all-electronic reference is just what drugmakers have been asking for. It includes the current text of the FDA's GMP regulations for drugs, biologics and combination products with Federal Register announcements and hard-to-find background information, plus the guidance that helps you maintain compliance. These documents are a gold mine for anyone who has to determine whether they are complying with GMP rules.
FDAnews has literally spent hundreds of hours tracking down many of these documents on obscure websites and in musty libraries. But the hunt has been well worth it.
Buried in these notices of rulemaking and guidances, drugmakers will find the full explanations of why the FDA has written the rules the way it has, touching on all aspects of pharma GMPs and adding perspective to the FDA's thinking on a host of issues, including:

Labeling and expiration dating
Quality control unit responsibilities
Responsibilities for oversight of contract manufacturers
Employee qualifications
Individual liability for adulterated products
Storage of quarantined product
Cleaning validation
Acceptance testing
Stability testing
Combination products
Many other issues drugmakers must deal with daily
Until now, much of this information has been lost over time or relegated to hard-to-find corners of government websites and federal depository libraries. But now install them all on the desktop, and understand GMP requirements and regulations with just a click of the mouse.
Up-to-date, comprehensive and organized for easy reference, Guide to FDA Pharma GMP Regulations – 2014 is the answer to all of the toughest GMP questions.
Guide to FDA Pharma GMP Regulations — 2014
**FDAnews Publication **
http://www.fdanews.com/PharmaGMP
FORMAT: CD
PRICE: $377
EASY WAYS TO ORDER
Online: http://www.fdanews.com/PharmaGMP
By phone: 888-838-5578 or 703-538-7600
ABOUT FDANEWS
FDAnews is the premier provider of domestic and international regulatory, legislative, and business news and information for executives in industries regulated by the US FDA and the European Medicines Agency. Pharmaceutical and medical device professionals rely on FDAnews' print and electronic newsletters, books and conferences to stay in compliance with international standards and the FDA's complex and ever-changing regulations.