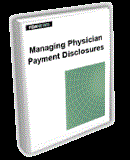 Falls Church, VA (PRWEB) January 23, 2014
Managing Physician Payment Disclosures:
Compliance in the New Era of Transparency
**FDAnews Management Report**
http://www.fdanews.com/PhysicianPayment
By Sept. 30, 2014, every payment to physicians and teaching hospitals will be public. The fallout from such publicity may create a host of problems for drug and devicemakers — not least, those $1 million potential fines.
Furthermore, drug and devicemakers expect physicians to carefully scrutinize the data and demand corrections when warranted. Some may dispute what exactly must be reported — even whether it needs to be reported at all.
But here's help setting up a compliant reporting program to withstand such challenges. Managing Physician Payment Disclosures gets drug and devicemakers off to a running start, with:

Key definitions on what information must be reported
Who qualifies under the law and must report, and who is exempt
How to build the "assumptions document" that will form the basis for your reporting strategy
Special considerations for educating physicians and hospitals on implications of the rule
How to avoid simple mistakes that can result in failure to report
How to anticipate potential PR and legal problems disclosure may create
How to address and resolve complaints about data
Plus, Managing Physician Payment Disclosures provides details on the tricky questions likely to arise when implementing the reporting program, including:
Are non-U.S. payments reportable?
Must companies report payments occurring before a product is approved?
Are consulting fees treated differently than gifts?
Are drug samples considered items of value that must be reported?
Are product discounts reportable?
Are payments for treatment of adverse events reportable?
Does the Sunshine Act preempt all state reporting requirements?
And many others!
Do manufacturers relish facing hordes of angry physicians demanding corrections to their data? How about the prospect of $1 million fines? The answer ought to be clear — especially when this easy-to-read management report can set drug and devicemakers on the right path in an hour or two of reading, max. Order today
Meet the Authors:
Managing Physician Payment Disclosures is based in part on a presentation to FDAnews by the following industry experts:
Tim Robinson, executive VP and general counsel, MMIS. Mr. Robinson has worked with numerous Fortune 500 companies to develop innovative products and services in the highly regulated healthcare and pharmaceutical industries.
Mark Linver, managing director of Huron Consulting Group's Life Sciences practice. Mr. Linver has more than 23 years of experience in implementing solutions that meet the business needs of FDA-regulated pharmaceutical, medical device and biotechnology companies.
Seth Lundy Esq., partner, King & Spalding, and deputy chair of K&S's FDA and Life Sciences Practice Group. Mr. Lundy is an expert in federal and state regulation of medical device and pharmaceutical manufacturers, healthcare providers and suppliers, as well as corporate compliance, the Anti-Kickback Statute, the Stark law, the False Claims Act, state law compliance and reporting regulations, and Medicare and Medicaid reimbursement.
Who Will Benefit:
Here's a suggested list of potential readers:
Drug company officials
Device company officials
Physicians
Hospital officials
Compliance officials
Regulatory Affairs officers
In-house counsel
Sales directors
Finance managers
Management Report Details:
Managing Physician Payment Disclosures:
Compliance in the New Era of Transparency
**FDAnews Management Report**
http://www.fdanews.com/PhysicianPayment
Format: Print or PDF
Price: $397
Easy Ways to Order:
Online: http://www.fdanews.com/PhysicianPayment
By phone: 888-838-5578 or 703-538-7600
About FDAnews:
FDAnews is the premier provider of domestic and international regulatory, legislative, and business news and information for executives in industries regulated by the US FDA and the European Medicines Agency. Pharmaceutical and medical device professionals rely on FDAnews' print and electronic newsletters, books and conferences to stay in compliance with international standards and the FDA's complex and ever-changing regulations.