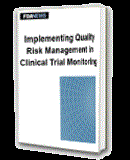 Falls Church, VA (PRWEB) January 21, 2014
Implementing Quality Risk Management in Clinical Trial Monitoring
**FDAnews Management Report**
http:// http://www.fdanews.com/QRMinCTMonitoring
The FDA wants clinical trial sponsors to start using risk-based site monitoring. That's a plus for many sponsors, but first they have to have the quality risk management system in place to make it work.
Now FDAnews has developed a quality risk management primer for clinical trial sponsors that shows clinical trial sponsors how to transition their organization from a traditional monitoring approach to a state-of-the-art QRM program.
This quick-reading management report shows how to use risk management to set up remote clinical trial monitoring systems, then walks trial sponsors through the steps to:

Establish a QRM committee to drive the process
Understand mapping and weighting key quality risk indicators
Identify real-time data needed for monitoring
Organize data into a dashboard to identify problems in need of investigation, including serious adverse event trends
Readers will discover tools to help develop their own QRM systems, including:
How to identify key metrics and risk indicators and determine which risks require tracking, rather than relying on a single across-the-board standard
How to ensure the system captures key elements of clinical trial quality under applicable FDA and EU regulations and guidances, including latest changes
Building a dashboard capable of monitoring from a handful of sites to thousands around the world, while maintaining quality and cutting costs
Evaluating clinical sites best suited to test remote monitoring
Identifying critical-to-quality (CTQ) metrics/key risk indicators and associated risks
Improving protocol quality in the concept stage of trial design
And much more
QRM helps trial operators gain deep understanding of risks associated with their trials, leading to efficiencies that could add millions of dollars a year to the bottom line. This management report gets clinical trial sponsors off to a running start. http:// Order today.
Who Will Benefit:
Here's a suggested list of potential readers:
Regulatory affairs and compliance professionals
Clinical research professionals
Clinical operations professionals
Medical affairs professionals
Clinical trial managers
Clinical trial monitors
Clinical trial study coordinators
Clinical investigators
Clinical quality assurance professionals
Management Report Details:
Implementing Quality Risk Management in Clinical Trial Monitoring
**FDAnews Management Report**
http:// http://www.fdanews.com/QRMinCTMonitoring
Format: Print or PDF
Price: $397
Easy Ways to Order:
Online: http:// http://www.fdanews.com/QRMinCTMonitoring
By phone: 888-838-5578 or 703-538-7600
About FDAnews:
FDAnews is the premier provider of domestic and international regulatory, legislative, and business news and information for executives in industries regulated by the US FDA and the European Medicines Agency. Pharmaceutical and medical device professionals rely on FDAnews' print and electronic newsletters, books and conferences to stay in compliance with international standards and the FDA's complex and ever-changing regulations.