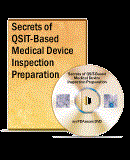 Falls Church, VA (PRWEB) January 09, 2014
Secrets of QSIT-Based Medical Device Inspection Preparation
**FDAnews DVD Training Course**
http://www.fdanews.com/QSIT
Now, the man who literally wrote the book on QSIT inspections can teach device manufacturers staff in a cost-effective, interactive way. Bring the same training used by FDA inspectors right to the conference room.
Tim Wells, former Team Leader for the FDA's Quality System Inspection Reengineering Project, coaches devicemakers at all levels on how to understand QSIT and use its ever-changing nuances to pass their next inspection.
This one-of-a-kind DVD training tool features a unique insider perspective as Mr. Wells, a 24-year FDA veteran, shows how the FDA determines risk profile. And points out red flags that alert manufacturers when an inspector is sniffing for a specific problem.
Viewers can clearly identify the key learning points as they are highlighted on screen and elaborated by Mr. Wells through his fine-tuned examples, interactive exercises, group discussion and a final exam.
In 180 tightly focused minutes, discover the best practices for passing FDA device inspections. Each purchase package includes:

Secrets of QSIT-Based Medical Device Inspections DVD
The Quality System Inspection Training (QSIT) Manual itself — full text
FDA's Compliance Program Guidance Manual — 7382.845: Inspection of Medical Device Manufacturers
Printable presentation slides in note-taking format
Troubleshooting Your Quality System: A Guide to Five Devicemaker Quality Compliance Traps Management Report
Title 21 CFRs - Parts 800-1299 (Medical Devices)
This DVD and related training aids include valuable take-away points and best practices, such as:
Understanding the differences between "top-down" inspections as prescribed in the QSIT, and the "bottom-up" approach FDA inspectors are using more and more
When devicemakers can rely on QSIT principles, and when inspectors may go "off book"
Getting top management involved with internal audits and compliance master plans
The specific red flags the FDA looks for
The five types of QSIT inspections
Non-QSIT areas FDA also inspects
And much more…
Meet the Instructor:
Tim Wells has more than 36 years of experience in the field of FDA-regulated healthcare products. He is president of the worldwide consultancy QualityHub Inc., which he started in 2000 after a 24-year FDA career that included stints as a field investigator plus 10 years at CDRH as a branch chief in the Office of Compliance. He is best known for his role as the Team Leader for the Quality System Inspection Reengineering Project, where he co-authored the QSIT guide and other key medical device regulatory documents. Mr. Wells has published numerous articles and given dozens of presentations worldwide, and is the recipient of numerous awards, including MDDI's 100 Notable People in the Medical Device Industry.
DVD Training Course Details:
Secrets of QSIT-Based Medical Device Inspection Preparation
**FDAnews DVD Training Course**
http://www.fdanews.com/QSIT
Format: DVD
Price: $397
Easy Ways to Order
Online: http://www.fdanews.com/QSIT
By phone: 888-838-5578 or 703-538-7600
About FDAnews:
FDAnews is the premier provider of domestic and international regulatory, legislative, and business news and information for executives in industries regulated by the US FDA and the European Medicines Agency. Pharmaceutical and medical device professionals rely on FDAnews' print and electronic newsletters, books and conferences to stay in compliance with international standards and the FDA's complex and ever-changing regulations.