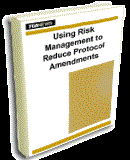 Falls Church, VA (PRWEB) December 20, 2013
Using Risk Management to Reduce Protocol Amendments
**FDAnews Management Report**
http://www.fdanews.com/RiskMgmnt
Protocol amendments are the bane of clinical trials.

More than three out of five trial protocols require at least one amendment … at a cost of $450,000 each, on average.
What's worse, nearly one-third of all protocol amendments pop up before the first trial subject has even been enrolled.
The solution, though, is simple and straightforward: Modern risk management strategies. When applied up front, proven quality risk management strategies will eliminate the need for most protocol amendments in clinical trials.
The concept of risk management in clinical trial design isn't new, and implementing it needn't be intimidating. Using Risk Management to Reduce Protocol Amendments shows how, with plain-English explanations of the nuts and bolts:
How to calculate a trial's risk priority number (and lower it effectively!)
Best practices for developing protocol designs that reduce common and systemic errors
How to identify study-specific elements critical to quality factors and associated risks
Tips for building proven medical and scientific quality elements into your protocol
Keys to auditing operational quality elements within your protocol design and implementation
And much more.
This management report wouldn't be complete without real-life examples, and that's just what readers will get — examples of successful clinical trial sponsors "de-risking" their protocols.
Drugmakers' clinical trials have used the same tired protocol designs for more than 20 years. Poor communication among departments … a science-only approach that ignores real-world considerations … a slavish reliance on procedures that have 'always been used,' regardless of success … it's no wonder so many clinical trials come in late and over budget.
It doesn't need to be that way though — not when it's so easy and inexpensive to do things right. Order Using Risk Management to Reduce Protocol Amendments.
Who Will Benefit:
Here's a suggested list of potential readers.
Research Director
Research QA
Research Writer
Sponsored Research Director
Management Report Details:
Using Risk Management to Reduce Protocol Amendments
**FDAnews Management Report**
http://www.fdanews.com/RiskMgmnt
Format: Print or PDF
Price: $397
Easy Ways to Order
Online: http://www.fdanews.com/RiskMgmnt
By phone: 888-838-5578 or 703-538-7600
About FDAnews
FDAnews is the premier provider of domestic and international regulatory, legislative, and business news and information for executives in industries regulated by the US FDA and the European Medicines Agency. Pharmaceutical and medical device professionals rely on FDAnews' print and electronic newsletters, books and conferences to stay in compliance with international standards and the FDA's complex and ever-changing regulations.