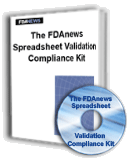 Falls Church, VA (PRWEB) March 20, 2014
The FDAnews Spreadsheet Validation Compliance Kit
**FDAnews Publication**
http://www.fdanews.com/SpreadsheetKit
Do the Microsoft Excel spreadsheets pass FDA muster? Can they meet strict 21 CFR Part 11 standards?
But some companies, rely on thousands, even tens of thousands, of Excel spreadsheets. Imagine monitoring all of them.
Yet, the FDA advises that all spreadsheets should periodically be re-validated and a permanent record of all cell formulas be updated. Training is critical for everyone. Don't let anyone to miss out on learning the best practices and available options for validating spreadsheets, including:

Exactly what the FDA looks for and why, including examples of noncompliance and regulatory concerns
Spreadsheet "gaps" the FDA is targeting
How to address the FDA requirement that spreadsheets be validated per 21 CFR 210-211 and Part 820
And more…
That's why FDAnews has created The FDAnews Spreadsheet Validation Compliance Kit. It will help drug and devicemakers:
1) Introduce staff thoroughly to spreadsheet validation, and
2) Train staff in the options they need to achieve optimal validation, so the company can become safely compliant and keep those FDA inspectors at bay.
The FDAnews Spreadsheet Validation Compliance Kit contains an invaluable collection of consolidated material from the FDAnews training database, designed to help employees become fully up-to-speed as quickly as possible. The kit includes:
FDAnews' best-selling spreadsheet validation report.
A 90-minute CD recording of FDAnews' recent highly-rated spreadsheet validation webinar.
Two excellent white papers on spreadsheet design, verification and validation, and use and storage in single- and multiple-user environments.
An impressive 64-page presentation filled with helpful examples, tips and flowcharts.
Developed by a specialist in pharmaceutical compliance and validation, this FDAnews Spreadsheet Validation training kit will show drug and device manufacturers how to create a spreadsheet validation program that satisfies both business and regulatory requirements. Plus, they will learn basic concepts like determining what the FDA expects from a validation program and how to build validation into an existing QA operation.
Publication Details:
The FDAnews Spreadsheet Validation Compliance Kit
**FDAnews Publication**
[http://www.fdanews.com/SpreadsheetKit
Format: Print
Price: $597
Easy Ways to Order:
Online: [http://www.fdanews.com/SpreadsheetKit
By phone: 888-838-5578 or 703-538-7600
About FDAnews:
FDAnews is the premier provider of domestic and international regulatory, legislative, and business news and information for executives in industries regulated by the US FDA and the European Medicines Agency. Pharmaceutical and medical device professionals rely on FDAnews' print and electronic newsletters, books and conferences to stay in compliance with international standards and the FDA's complex and ever-changing reg