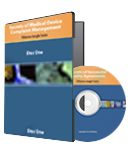 Falls Church, VA (PRWEB) March 24, 2014
Secrets of Successful Quality Agreements
**FDAnews DVD Training Course**
http://www.fdanews.com/SuccessfulQualityAgreements
Together, William Reiss, senior manager, supplier QA agreements & global sample retention at Celgene, and Steven Sharf, president, GMP Concepts, have overseen hundreds of quality agreements. And in this 3-hour DVD seminar, these two veterans will take viewers through all the issues to consider when negotiating or reviewing a quality agreement from start to finish, such as:

What can manufacturers realistically expect regarding change control?
What role should lawyers play in preparing agreements?
What allowances can manufacturers make for small companies?
What are some workable penalties for noncompliance?
What are reasonable audit requirements?
What deficiencies can be offset by acceptance testing?
And dozens more…
This FDAnews Insight Series Seminar includes the three-hour recorded seminar, an executive overview of the topic and all the relevant regulatory references — and without having to leave the office to attend. Just pop the disk into the DVD drive and it's ready to go.
Secrets of Successful Quality Agreements operates on PCs and Macs that have a DVD drive.
DVD Training Course Details:
Secrets of Successful Quality Agreements
**FDAnews DVD Training Course**
http://www.fdanews.com/SuccessfulQualityAgreements
Format: DVD
Price: $397
Easy Ways to Order:
Online: http://www.fdanews.com/SuccessfulQualityAgreements
Phone: 888-838-5578 or 703-538-7600
About FDAnews:
FDAnews is the premier provider of domestic and international regulatory, legislative, and business news and information for executives in industries regulated by the US FDA and the European Medicines Agency. Pharmaceutical and medical device professionals rely on FDAnews' print and electronic newsletters, books and conferences to stay in compliance with international standards and the FDA's complex and ever-changing regulations.