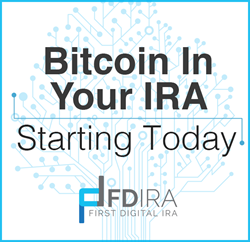 FDIRA's new service fulfills a desire of many in the market who want to tap their retirement savings, like an IRA or old 401(k), into some significant growth potential.
Burbank, CA (PRWEB) August 17, 2017
In a revolutionary development that can benefit many people with a retirement account, First Digital IRA (FDIRA) is excited to announce that it has launched its new service to help Americans place digital currency, such as Bitcoin and Ethereum, inside an IRA account.
As digital currencies (also known as cryptocurrencies) continue to increase in value, more people around the world are looking to invest in them. "FDIRA's new service fulfills a desire of many in the market who want to tap their retirement savings, like an IRA or old 401(k), into some significant growth potential," says Digital Currency Strategist Cory McDaniels. "Our business allows people to do just that. Plus, any growth to the value of the Bitcoin or Ethereum in the IRA would come on a tax-free basis while held within the account."
In order to bring this new service to market, FDIRA has partnered with a number of companies to facilitate a multi-step process. First, FDIRA helps the customer set up a Self-Directed IRA with an approved custodian, which is a secure, financial institution that is responsible for the administration of the account. Then, the company works with one of its partner exchanges to execute the purchase of the digital currencies to place into the customer's account. Finally, FDIRA ensures that the currency is placed in a secure digital wallet with one of its preferred wallet services. Following the completion of this setup, customers have full visibility into and control of their digital wallet; they can also add more digital currency or sell their currency via FDIRA whenever they would like.
FDIRA hopes to make a significant impact on the retirement market by offering Americans an option for their nest egg that goes beyond the stocks and mutual funds that are typically included in IRAs and 401(k)s. Not only can Bitcoin, Ethereum, and other digital currencies help to diversify existing retirement portfolios, they also act as a hedge against inflation and have the potential for major growth. For most Americans with a typical retirement account, access to this is not possible.
Cryptocurrencies are a type of digital currency that use cryptography for security and anti-counterfeiting measures, with public and private keys being used to transfer ownership between people. Due to the supply and demand of these digital currencies, the market collectively determines their value. One significant appeal to many people who purchase them is that they are not connected to a particular country; this means that their value cannot be manipulated by a central bank. For example, the supply of Bitcoin – the leading cryptocurrency – is finite; there is a pre-defined maximum amount that can ever enter circulation. Therefore, digital currencies are in some ways similar to precious metals like gold and silver, as they are impervious to whatever the Federal Reserve may do to diminish the purchasing power of the dollar.
Based in Burbank, Calif., FDIRA was established on the belief that Americans should have more choices for the type of assets available to them in their tax-advantaged retirement accounts. It was founded by the team from Birch Gold Group, a national dealer of physical gold and silver, and a leader in Precious Metals IRAs. Due to this previous experience working with IRAs, the team at FDIRA begins this new venture with a strong, preexisting set of vendor relationships, knowledge and know-how. "We expect to hit the ground running from day one," said McDaniels. "With Bitcoin and Ethereum continuing to rise in value, we couldn't be more pleased with our timing and are thrilled to help fulfill a relatively underserved desire in the market."
For more information about FDIRA's new service or to sign up for an account to place Bitcoin and Ethereum into an IRA, visit http://www.fdira.com.