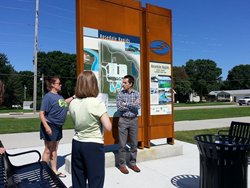 "Communities all across America have found that good, well-maintained trails can promote safe and livable communities."
Fort Dodge, IA (PRWEB) August 12, 2014
What has taken close to a couple of decades to complete is something to truly celebrate. On Friday, August 15th there will be the Celebration of Trails By the River that will highlight the new trails to the public.
This project is an example of what can be down when approximately 20 public and private organizations come together for a common cause. Organizations like the Dodger Cyclist, Webster County Conservation, Vision Iowa, Iowa Great Places, City of Fort Dodge and individuals worked together to plan and provide funding. The $6.7 million project is funded through support from private individuals and businesses, state grants, federal Greenbelt funds, the city of Fort Dodge and the Webster County Board of Supervisors. Additional funding from Iowa Great Places were also used for wayfinding signage, kiosks and benches.
The Fort Dodge tails system currently connects six parks, three schools and the riverfront. With its multiple legs and sections, it totals 23 miles and is accessible from various points marked with the wayfinding signs and kiosks. A map of the trails is available for downloading from the Fort Dodge city website.
Communities all across America have found that good, well-maintained trails can promote safe and livable communities. Trails add character to a community and reinforce a community's desirability as a place to live, work and play. Trails encourage people to enjoy the great outdoors and embrace activity. Good trail systems will increase recreational opportunities in communities because residents use the trails for recreational biking, hiking, and running, and in the winter, cross country skiing. Trails are also valued for their ability to connect people with places and to nature itself. They provide safe and enjoyable access to nature areas, parks, green spaces, rivers, lakes and other recreational venues. Often, a community's trail system can provide a sense of place and a source of community pride while serving as an indicator of the community's investment in health, vitality and quality of life.
The Celebrate the Trails event will start with a ribbon cutting at 6:15 pm and kick off the Family Bike Ride and Scavenger Hunt on a 5 mile trail course. The Scavenger Hunt will have ten things for the participants to look for and take a picture of. Each picture is turned in for chance to win a prize.
For others there will be the Pedal Power Poker Ride that will take the riders on 20 to 27 miles of the trails. Others can join the Firefly 5K that will be at 8:30 pm The Firefly 5K course will be lined with glowing luminaries. Participants are urged to put on a glow and wear glow materials or reflective clothing. There will be prizes for the brightest male and female, brightest group and brightest stroller.
For more information on the Fort Dodge Trail System or the Celebration of Trails event contact Webster County Conservation, 515-576-4258, the Fort Dodge Parks and Recreation Department, 515-576-7237 or the Fort Dodge Community Foundation, 515-573-3171.