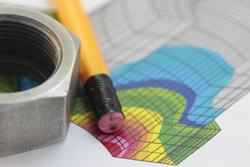 Software is a great combination between artistry and engineering. - Bill Gates
(PRWEB) April 29, 2015
IndiaCADworks is pleased to announce the immediate availability of finite element analysis (FEA) consulting services for specialized engineering applications in diverse industries located throughout the world such as semiconductor, power generation and distribution, industrial, aerospace, civil engineering and chemical processing. According to IndiaCADworks, "We have assembled an expert team of mechanical engineers who can quickly and cost-effectively perform finite element analysis. Prime examples of our FEA consulting benefits for engineering clients include avoiding time losses due to prototype testing failures, producing designs that are sustainable in terms of energy usage and saving time and money often consumed by design re-assessment."
The finite element analysis consulting services now provided by IndiaCADworks feature an exhaustive list of specialized mechanical engineering capabilities such as multi-body dynamic analysis, fatigue and fracture mechanics, fluid-structure interaction, computational fluid dynamics, static analysis, and stress/structural analysis. Based on material properties and loading conditions, the IndiaCADworks' engineering team applies the appropriate FEA solution — fatigue, buckling, dynamic, non-linear contact, non-linear, linear and static tests.
By outsourcing company's finite element analysis needs to IndiaCADworks, engineering companies will be optimizing and improving its efficiency, cost, weight, and strength of product designs.
For more than 10 years, IndiaCADworks has been working with engineering clients that include Fortune 1000 companies, global engineering firms and entrepreneurial engineering enterprises of all sizes. As noted by an IndiaCADworks senior operations manager, "We are more than your consultant — we are your partner. Our quality is second to none. Our domain experts have decades of experience providing FEA Consulting to world-class engineering firms operating on tight deadlines and budgets. No project is too large or too small for our team."
For larger projects, IndiaCADworks provides Full-time Equivalent (FTE) pricing for FEA consulting engagements. For smaller budgets and projects, hourly rates are available. As with all engineering and CAD services provided by IndiaCADworks, it maintains the highest levels of integrity and quality in everything that they do. It will never sacrifice customer confidentiality in any way — and of course, client satisfaction is always been their guaranteed.
To obtain more information about IndiaCADworks' finite element analysis services, please visit: http://www.indiacadworks.com/mechanical/fea.php
About IndiaCADworks:
IndiaCADworks is a world-renowned mechanical engineering and CAD outsourcing team in Bangalore, India. Companies that outsource to IndiaCADworks typically save up to 60 percent operational costs. For over a decade, IndiaCADworks has provided world-class CAD and engineering services to clients around the world.