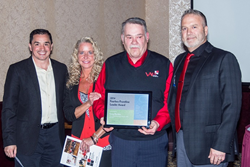 We often hear of award programs for CEOs & other top leaders, but rarely hear about programs that recognize excellence in frontline leadership. We're excited to be a part of a larger movement towards manufacturing excellence. Rich Cary, Definity Partners
Cincinnati, OH (PRWEB) May 08, 2014
Last week, Definity Partners paid tribute to two remarkable 2014 Fearless Frontline Leader Award recipients in a heartfelt ceremony that truly represented what manufacturing and leadership should and could mean in our country today.
The evening began with a dedication to the frontline leader who inspired the award, Mike Stilwell. Mike was a dedicated and enthusiastic frontline leader at Norris Screen in Tazewell, Virginia. Tragically, Mike was killed in an ATV accident in May of 2013. Definity Partners worked with Mike and still works with other courageous frontline leaders like Mike, every day. As a tribute to Mike, his family, and the hardworking frontline leaders across the nation, Definity Partners created the Fearless Frontline Leader Award. Mike's family was recognized at the dinner and awarded an honorary Frontline Leader Award plaque in Mike's name. His daughters were also given $1,000 scholarships in honor of their father's fearless leadership.
Greg Bartley of Value Added Packaging (Clayton, Ohio) and Richey Johnson of Southeastern Mills (Rome, GA) were honored as the first-ever recipients of the Fearless Frontline Leader Award. Leaders from their respective companies paid tribute to Greg and Richey presenting inspiring stories of their work on the frontline and congratulating the hard-working individuals they had come to honor.
As an award recipient, Richey Johnson from Rome, GA was honored, by HPWP Consulting's Founder and Principal, Sue Bingham, "The people who work for Richey will knock down walls to meet his expectations. His personal strength and integrity are unmatched. As a consulting team, we work with a lot of companies and see many good frontline leaders, but Richey stands above the rest."
Noted for their High Performance Work Place culture, Chesley Heck, Sr. Director of Operations of Southeastern Mills stated, "I consider Richey to be a mentor and more importantly a friend. I appreciate Richey's commitment to lead and help other people."
Award recipient, Greg Bartley, was honored by the owners of Value Added Packaging (VAP), Mari and Jarod Wenrick. Greg's inspirational story began three years ago when he was hired by VAP after nearly 30 years in manufacturing. According to the Wenrick's, when Greg first starting working at VAP he was just there to run his machine and bide his time until retirement. After about a year of working in their uniquely positive and empowering work environment, Greg and the VAP leaders began to realize that he had a special gift as a leader, having the ability to empower others to strive to their personal best. As a result, Greg accepted a VAP leadership role and hasn't looked back since. "He leads with a humble power that is felt more than seen. Our team looks up to him; they appreciate the knowledge and experience that he has to share and he does it in a way that is not intimidating, but inspiring," said Mari.
The evening ended with inspirational advice from Definity Partners' Founder, Ray Attiyah. Ray challenged the award recipients and everyone present to inspire frontline leaders and encourage employee empowerment in order to help bring vitality back to American manufacturing.
With the creation of the Fearless Frontline Leader Award, Definity Partners will continue to promote excellence in frontline leadership and endorse the benefits of developing a proactive work place that encourages employee involvement, empowerment, process simplification and team building.
The Fearless Frontline Leader Award will be presented each May to inspirational frontline leaders across the nation. To nominate a frontline leader for 2015, or for more information on the Fearless Frontline Leader Award, please visit http://www.fearlessaward.com.
About Definity Partners, LLC.
Definity Partners is about developing people, changing cultures, attracting the best talent and driving improvements. We exist to help people achieve more than they ever thought possible. From our clients' frontline workers, managers, and executives, to our own associates, we empower people to drive change and improve their environments and their lives every single day.
Definity Partners is not your typical consulting firm. In fact, we were founded by Ray Attiyah in the early 90s specifically to fill the gap between what traditional consultants have to offer, and what the market actually needs. In essence, we don't just promote ideas for improving your business like a typical consulting firm- we demonstrate your improvements by working beside you, modeling behaviors, confronting the tough challenges with you, and helping you to rapidly implement change that leads to bottom-line results.
Our hands-on approach to driving change, developing people, and building leadership skills starts with the front line and extends to the executive suite. Our dedicated project manager's work closely with your people, digging in and getting our hands dirty, being on-site when the first employee arrives until the last one leaves, and doing whatever it takes to get the job done. Definity Partners has a deep passion for driving sustainable and continuous improvements. And we share that passion with everyone we work for - and everyone who works for us.
Definity Partners is bound and determined to help manufacturing facilities attract the next generation of fearless frontline leaders by being innovative, empowering employees and driving leadership from the front lines. Manufacturers take note: now is the time to innovate, educate and attract your future front lines. Be bold. Be fearless.