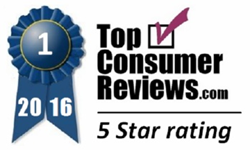 Pillows aims to provide the widest selection of high-end bedding online, and they absolutely deliver.
Overland Park, KS (PRWEB) July 29, 2016
TopConsumerReviews.com recently awarded their best-in-class 5-star rating to Pillows, an industry leader in Feather Pillow sales.
Many people love the feeling of a soft, feather pillow at night. Sometimes after experiencing a great night's sleep at a hotel, many customers want to know where they can find the high-quality feather pillows that gave them such a restful sleep. Online retailers of feather pillows make it possible for shoppers to get the exact same feather pillows - sometimes even identifying the very brand and style by hotel chain - for use in their own homes.
"Pillows aims to provide the widest selection of high-end bedding online, and they absolutely deliver," explained Brian Dolezal, of TopConsumerReviews.com, LLC. "They offer a huge selection of over 50 different kinds of feather pillows you can choose from. And, if you've ever had the luxury experience of staying at the Bellagio in Vegas or a Ritz-Carlton, you can get the very same pillows they use for your own bedroom at Pillows. Their website makes it incredibly easy to search by hotel name, manufacturer, and price to quickly locate the exact pillow you're looking for. With such a wide selection of feather pillows to choose from, a 30-day return policy, and a flat-rate shipping fee of only $5, Pillows earns our top rating for Feather Pillows in 2016."
To find out more about Pillows and other Feather Pillow retailers, including reviews and comparison ratings, please visit the Feather Pillows category of TopConsumerReviews.com at http://www.topconsumerreviews.com/feather-pillows/.
About Pillows
Pillows, formerly Pacific Pillows, was founded by Abby and Craig Clark. As a family-based business, Pillows is specifically focused on bringing luxury bedding into homes around the United States at reasonable prices. They only feature products found in luxury hotels and resorts around the world and are constantly adding and updating their inventory to best meet the needs of their customers. Craig and Abby each have over 10 years of mail order retail experience and, along with the Pillows team, are dedicated to giving customers the service they deserve.
About TopConsumerReviews.com
TopConsumerReviews.com, LLC is a leading provider of independent reviews and rankings of hundreds of consumer products and services. From Feather Pillows to Foam Mattresses and Home Security Systems, TopConsumerReviews.com delivers in-depth product evaluations in order to make purchasing decisions easier.