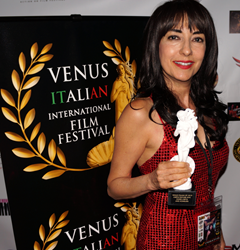 The acknowledgement of the relevance of the stories portrayed in this movie and potential proliferating impact into the community holds such a great deal of potential to destigmatize LGBTQ issues (Shayna Greenberg)
LOS ANGELES (PRWEB) August 07, 2019
The anti-bias feature documentary of CSUN psychology professor Dr. Luciana Lagana, OLDER, LGBTQ, AND HOMELESS, won Best LGBTQ Feature Documentary Award at the Venus Italian International Film Festival in Las Vegas.
From the festival's website - The passion of Italian cinema in history has a legacy that deserves to be continued. It's our goal to present and promote Italian films, from filmmakers who put their time, passion and creativity into the art of cinema. Some of the greatest film directors and legendary voices hail from the beautiful country of Italy. Their understanding of cinematography, character, story, drama, love and romance allowed them to craft tales that have left viewers speechless in history.
This social impact film also gathered an award nomination for Best LGBTQ Film at the Las Vegas International Film and Screenwriting Competition. As described on the festival's website, the festival's directors are "dedicated to recognizing the work of the most talented up-and-coming storytellers in film and television screenwriting from around the world. Our submissions are judged entirely by produced, optioned, and/or award-winning filmmakers and screenwriters, and our finalists will have their work seen and/or read by professionals in the film and television industry". The full list of film award nominees and winners is available at https://www.lviscreenwritingcompetition.com/2019-films.html.
The stars of this feature documentary are resilient individuals who, for a variety of reasons including ageism and homophobia, have found themselves in a difficult position and unable to make enough money to afford the high Los Angeles rental prices. They have bravely shared their very challenging life journeys. The film also covers the viewpoint of the two caring owners of the transitional housing project who have made rent affordable for these four individuals.
Shayna Greenberg is the main editor of the movie and a graduate student in Dr. Lagana's research laboratory. She is using this film as the experimental manipulation of a preliminary randomized controlled trial to test its potential anti-bias impact on film viewers/research participants. Shayna shared the following: "It's an honor to have won awards for our OLDER, LGBTQ, AND HOMELESS film. The acknowledgement of the relevance of the stories portrayed in this movie and potential proliferating impact into the community holds such a great deal of potential to destigmatize LGBTQ issues. I am greatly excited to follow its journey and to continue working with Dr. Luciana Lagana on developing and investigating the power of film".
Dr. Luciana Lagana has multiple doctoral and post-doctoral degrees and specializations in experimental and clinical psychology. For about 20 years, she has been an established full-time CSUN professor of Psychology, Women's Health, Gerontology, and Sexuality. She enthusiastically teaches classes and mentors many undergraduate and graduate students from several CSUN departments. Moreover, since 2002, she has been conducting NIH-funded research on ethnically diverse, mainly low-income older women's physical, psychological, social, and sexual health. Dr. Lagana has accumulated 45 peer-reviewed publications and has delivered over 100 conference presentations. She won the 2017 CSUN Exceptional Creative Accomplishments Faculty Award for her anti-bias feature films and shows, as well as the 2011 Preeminent Scholarly Publications Faculty Award and the 2008 Visionary Community Service Learning Faculty Award. Concerning her artistic pursuits, she was a child performer (singing, dancing, acting, and modeling) and was part of a touring theatrical company in her late teens in Italy. She also studied acting, hosting, and filmmaking in Los Angeles where, after studying film production in 2013 under the mentorship of Prof. Nate Thomas (the Director of the Film Production Option in the CSUN Department of Cinema and Television Arts), she started creating, directing, and producing several social impact films and series. She is an actor/host/screenwriter/director/producer with over 30 film festivals' wins listed on IMDb and more than 50 IMDb credits for acting in films, TV shows, and web series.