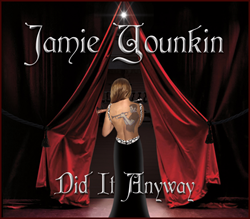 There is something transformative about stepping out as a musician with your first album
MELBOURNE, Fla. (PRWEB) July 31, 2018
Jamie's musical tastes developed organically through exploration and an extensive education in music. She has deep roots in country music, classical music and jazz and holds a Bachelor's degree in music education from the University of Mary, Bismarck, ND, a Master's degree in Musicology from Florida State University, and a Ph.D. in musicology from the University of Toronto.
Jamie's career was committed to teaching and inspiring college students. She conducted orchestras, bands and choirs, directed jazz big bands and delighted in the success of her students. Outside of her educational roles, however, she still felt a voice was missing. Her search for that voice has become the driving force behind her solo career in performance and in the composition of "Did It Anyway."  The musicians on the project are Jamie Younkin - Voice/Trumpet/Composer, Paul Tardif - Piano, Chris Cortez - Guitar, Chuck Archard - Bass and Marc Clermont - Drums.
"Sultry vocals, tight harmonies, if you like Diana Krall, Peggy Lee and Joni Mitchell, Jamie Younkin is for you!" ~ Brevard Live magazine, July 2018
"Love the opening of "When I Fall In Love," soft tender vocals as well as the fluid sound she blows into her trumpet that expresses Younkin's interpretation of this evergreen tune" says Jaijai Jackson of The Jazz Network Worldwide.
Younkin is deeply grateful for her teachers throughout the years and the love of her family and friends. Through these people she found the answer to her original question: the ultimate meaning in music is love, hence "Did It Anyway."
With a strong radio campaign in motion and the outreach to the jazz marketplace, Jamie seeks to connect with festivals worldwide not only where she can perform selections from "Did It Anyway," but also offer her educational background through festivals that have an educational component.
"There is something transformative about stepping out as a musician with your first album.  It is a risky business.  But before it is ever a business it is a vocation and the voice in your heart will never stay quiet, never stop calling.  I know it's crazy.  It might be ill-timed and it is definitely unwise, but…I did it anyway." ~ Jamie Younkin
To purchase "Did It Anyway" and to learn more visit http://jamieyounkin.com. Be sure to check the feature on The Jazz Network Worldwide at http://thejazznetworkworldwide.com
Follow Jamie on Social Media:
Facebook: https://www.facebook.com/trumpetsongs/?hc_ref=ARRP9gw9HVkmSyanyXMXuJwIVScfZkr-5BIzu4PQEbI8tmB1dNm8tSfjiqSXos9Bgrs&fref=nf
Linkedin: https://www.linkedin.com/in/jamie-younkin-b5361a1b/
Twitter: https://twitter.com/jamie_younkin