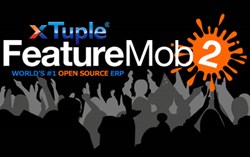 Your response was overwhelming. And, thanks to all of your input, we have put together a way for you to participate in what we're calling the xTuple Feature Mob 2!
Norfolk, Virginia (USA) (PRWEB) August 29, 2013
xTuple CEO Ned Lilly queried the open source user community recently, asking what features were missing for xTuple PostBooks to be "perfect." The result is Feature Mob 2, explained in this video message, with transcript below:
"I'm Ned Lilly. I'm CEO of xTuple, the world's #1 open source ERP software company. Recently, I posted on our xTuple Community Blog about a friend of mine who was a producer of the Veronica Mars TV show. They used the Kickstarter online crowd-funding platform to raise money for a Veronica Mars feature film. It was fabulously successful – they had hoped to raise maybe $2 million, but ended up raising SIX, and that came from over 100,000 different individual contributors. So I thought, wouldn't that be neat if we could do something like that on a smaller scale for xTuple open source PostBooks application. Well, be careful what you wish for! If we did such a thing at xTuple, what would you like to see, what improvements would you like to see to the software, what enhancements? What are the missing features that everyone would like to see? And, boy, did you let us know!"
"Your response was overwhelming. And, thanks to all of your input, we have put together a way for you to participate in what we're calling the xTuple Feature Mob 2!"
"So the Feature Mob is similar to Kickstarter – it's a social platform that enables micro-sponsorships from our own community for the features YOU want to see. We did something similar a couple of years ago that resulted in the integration of email into the xTuple Connect product. That was Feature Mob 1 and here comes Feature Mob 2."
"All of your feedback was entered into the xTuple CRM Issue Tracker, rationalized with existing feature requests. What we've pulled together is – what we believe to be – YOUR top 30 most-requested xTuple features."
"This is a lot of work – a lot of development, testing, documentation. But, with your help, we can incorporate all thirty of these features into the next three major releases of the xTuple software. And we only need a little under 250 individual sponsors to make it happen."
"Similarly to Kickstarter, with the xTuple Feature Mob, there are different levels of rewards with different levels of contribution, ranging from an exclusive Feature Mob t-shirt to xTuple Lands' End knit shirt, all the way up to a perpetual license to the xTuple Enterprise Edition."
"So, there are some big, exciting features in here, including: integrating xTuple with leading open source business intelligence solutions, payroll solutions; expanded localization of VAT reporting and electronic payments, both issues that are very much top-of-mind for our users in Europe; importing and reconciling electronic banking transactions; better support for credit card purchasing, and a supercharged search engine, which we're calling a Regular Expression Wizard, to unlock the power of xTuple for maybe the less technical among us."
"Hopefully, if you've been involved in the xTuple community for any length of time, you will see some of your favorite issues on this list!"
"So, without any further ado, let's roll the whole list here:"
Module: Feature and Incident Number
Accounting:
Finance Charges 20104
Payroll export wizard and optional TimeTrex interface 20114
Simplified use of credit card for Purchasing 20283
Expanded VAT localization - forms for UK, EU, CA, AU 20135
Ability to Reverse Bank Reconciliation 8891
Standard 1099 handling for US companies 11207
Apply Credit Memos to checks/payments 7518
Reverse Behavior on Miscellaneous AP Credit Memo 18174
Right-click on AR Workbench to open Customer 20281
Add "Open Customer Master" to right-click on A/R Workbench 16055
Right-click to see source Voucher on AP Workbench 16366
Add "Void" option to right-click on AP Workbench, Payables tab 17852
Improvements to AP Workbench 20279
External Interfaces
Online banking: import transactions 20112
Improve EFT payment tool 6887
Real-time Exchange Rate interface 20129
Reporting / BI Dashboards
Pentaho Community Edition integration 20131
Purchasing
PO search by customer Purchase Order 20143
CRM Make parent-child relationship in CRM meaningful 17846
Create TE filter to manage only timesheets of direct reports 15494
Allow re-open of Closed T&E Sheet 15975
T&E should prompt for Invoice Date when creating Invoices 18550
Sales
Show Local currency on Order Backlog 20147
Deposit when applying Credit Card payment on Sales Order (SO) 20141
System
REGEX Wizard Power Search 20753
Characteristics on Sales Orders/Invoices/Purchase Orders 19168
Search: Search email tabs 20136
Document Tab everywhere the Comment tab is 11304
Longer recent database list on login screen 16518
Add "Column" to "Copy to Clipboard" right-click on table view 17543
Share these Tweets:
FeatureMob2: Integrating @xTuple with leading #OPENSOURCE @Pentaho business intelligence & payroll solutions http://ow.ly/21zF8S
FeatureMob2: Expanded @xTuple localization of VAT reporting/electronic payments, both top-of-mind for EU users http://ow.ly/21zF8S
FeatureMob2 @xTuple: Importing/reconciling electronic banking transactions, better support for credit card purchasing http://ow.ly/21zF8S
FeatureMob2: Supercharge search engine (REGEX) unlocks power of @xTuple for the less technical http://ow.ly/21zF8S
FeatureMob2 @xTuple Rewards: T-shirts, polos, xTupleCon VIP tix, add-ons & #Enterprise licenses http://ow.ly/21zF8S
FeatureMob2 @xTuple Rewards: Exclusive X-logo ball cap to first 100 pledges http://ow.ly/21zF8S
About xTuple — World's #1 Open Source ERP
xTuple business management software gives growing companies control over operations and profitability. xTuple integrates all critical functional areas in one modular system: sales, accounting and operations — including customer and supplier management, inventory control, manufacturing and distribution — the powerful tools to Grow Your World®.
As a commercial open source company, xTuple works with a global community of tens of thousands of professional users. xTuple gives customers the ability to tailor solutions with multi-platform support for Windows, Mac, Linux and mobile as well as flexible licensing and pricing options. Connect with the company at xTuple.com, with the open source community at xTuple.org, and join the innovation conversation at NextBusinessBlog.com.
From blueprints to buildouts, xTuple helps foster startups in the heart of the Mid-Atlantic technology corridor between Research Triangle, North Carolina, and Washington, D.C., as a committed, passionate member of the Norfolk/Virginia Beach tech community. Learn more at xTuple.com/aboutus.