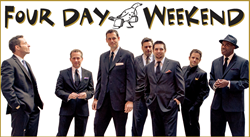 It's been a great 17 years and we look forward to the next 17!
Fort Worth, TX (PRWEB) February 12, 2014
It's funny how hard work pays off; both figuratively and literally. Four Day Weekend, Inc. started out with $2,100.00 and turned their dream to perform into a million-dollar business. This year, the group, now the longest-running show in the Southwest, is being recognized by the Fort Worth Chamber of Commerce as one of the Top 3 finalists for "Small Business of the Year" and couldn't be more thrilled.
"We couldn't have asked for a better experience. Fort Worth has been so good to us and we have our fans and the city's support to thank for that," co-founder Frank Ford explained.
Their initial investment of $2,100.00 went into printing flyers and posters way back in 1997 and the group has never looked back.
Founding member, David Wilk, explains 4DAY's early business model.
"We started our show at 11:30 on Friday and Saturday nights. We would hand out the flyers, sell our own tickets and then perform! We had to do it all in the beginning and no one got paid for a long time. We kept putting whatever money we made right back into the business."
These days the 212-seat Four Day Weekend Theatre is a mainstay in Sundance Square and an institution in the city of Fort Worth. And what a city! Since Four Day Weekend, Inc. picked Fort Worth as its home, the city has ranked in the Top 20 for population growth, is listed as one of the best cities to live in 2014 and the fourth fastest growing city in the country.
Since their meager beginnings, the group has:

Given a Keynote address to Congress and met President Obama;
Worked with former President George W. Bush;
Received the "Key to the City" of Fort Worth;
Sold a television show to 20th Century FOX;
Wrote a book entitled, "The Art Of ImproviZEN;"
Perform more than 300 shows a year;
Have performed more than 5,000 times in the history of the company.
And how does co-owner, David Ahearn, feel about the future of the company?
"It's been a great 17 years and we look forward to the next 17!"
Critically acclaimed comedy group Four Day Weekend is the longest-running show in the southwest. On Fridays and Saturdays, the group performs a one-hour and forty-five minute show created from audience suggestions and participation at their 212-seat theater in downtown Fort Worth. Voted Best Comedy, Four Day Weekend is a Fort Worth institution. They've been called "Fort Worth's Greatest Ambassadors," have been awarded the Key to the City, and have performed for two U.S. presidents and delivered a keynote address to the United States Congress. No trip to Fort Worth is complete until you attend this award-winning show! http://www.FourDayWeekend.com