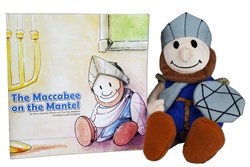 Dallas, TX (PRWEB) February 12, 2014
Many children spent the months of November and December searching for their family's new favorite friend: The Maccabee on the Mantel. Maccabee on the Mantel, who has been called by many the "Jewish Elf on the Shelf", is a high-quality plush soldier toy that comes with a beautiful written and illustrated story that teaches about Hanukkah.
Much like the Elf, the Maccabee can be hidden about the house for the kids to discover. Well, this month the Maccabee will be easy to find - he is going to be in New York City at Toy Fair 2014.
Maccabee on the Mantel creators Abra Liberman Garrett, David Wilk, and Frank Ford took a very "grass roots" approach to introducing the Maccabee on the Mantel, using only Facebook to advertise. Abra, the book's author and herself a former preschool teacher at Temple Emanu-El in Dallas, supplemented these efforts with appearances at local preschools and Jewish Community Centers where she read to the kids.
The MOTM team deemed 2013 as a "soft launch" that they were using to both gauge interest in and perfect the product. The response was overwhelmingly positive and even with a late start to an early Hanukkah season the Maccabee sold out three shipments totaling 1000 units to happy families all over the country.
Co-creator David Wilk says laughingly, "We didn't want to advertise too much because we didn't have all that many to sell, we only made 1000 this year!"
Yet even still, the Maccabee sales continued well past Hanukkah and into January. Abra hypothesized that the reason the sales stayed so strong after Hanukkah was because the Maccabee fills a need for the many interfaith families like her own, who want to honor both religions all season through.
Part of what makes Maccabee on the Mantel so unique and special is it actually is a teaching instrument and not just a toy. As a teacher, it was imperative to Abra that the book not just entertain but educate as well, so the story of Hanukkah and the Maccabee soldiers is taught in a tone appropriate for young children.
The Maccabee Team was very happy to learn that their concept was being used in many temples, preschools, and even in secular schools as well. One school in Austin used the book for part of their curriculum to educate children about different cultures. Temple Sinai created a Facebook page chronicling the adventures of "Mac Maccabee" in Israel.
Maccabee on the Mantel has now been seen all over the world.
The MOTM team is thrilled to be bringing their product to Toy Fair 2014 - Booth 240. They are excited to reach more families this year, bringing the magic of the Maccabee to all.
You can read more about Maccabee On The Mantel and purchase the book and plush on their website - http://www.MaccabeeOnTheMantel.com.