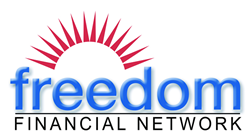 People still have time to plan their tax filing and decide what to do if they owe a large amount.
San Mateo, Calif. (PRWEB) February 09, 2016
Tax filing season is just two months away, and two new potential tax penalties – on health coverage and tax scofflaws – emphasize how important it is to file taxes properly, says Kevin Gallegos, vice president of Phoenix operations for Freedom Financial Network (FFN).
This year brings a new threat to those who have IRS tax debt and are not participating in a payment plan. The highway funding act that became law on Dec. 4, 2015, allows the IRS to revoke or deny an application for a passport of anyone who owes $50,000 or more.
"The new law may impact people's ability to travel, which highlights how important it is to stay up to date with tax obligations," Gallegos adds. "Fortunately, people still have plenty of time to develop a plan for their 2015 tax filing, and to decide what to do if they owe a large amount."
This time of year is also a good time to plan for next year's taxes, Gallegos says. "The Affordable Care Act penalties rise again in 2016, so filers should make sure they are covered to avoid an even bigger hit. And this is still a good time to adjust withholding if you are paying a large tax bill or receiving a big refund that you could instead invest or use to get out of debt."
Meanwhile, for 2015 tax filers, Freedom Financial Network offers these six tips.
1. Watch for new health coverage penalties. Penalties are rising under the Affordable Care Act for people who do not purchase health insurance for all or part of the year. The penalty for 2015 is $285 or 2 percent of income, whichever is greater. Health plans are required to send their customers proof that they had health coverage during 2015. By now, everyone should have received Form 1095-A, 1095-B or 1095-C. The IRS doesn't require filers to submit these forms, but they do need them to complete their tax form and avoid the penalty.
2. Collect backup for all deductions. Filers who itemize their tax deductions will need backup (receipts or forms) for deductions such as mortgage interest, medical expenses and charitable contributions. Filers may be eligible to deduct child care expenses, student loan interest expense, moving expenses to take a new job, and some education or business expenses. The IRS may require evidence, however, so make sure to gather and store receipts in one location.
3. Maintain records for at least three years. The IRS provides specific recommendations on how long to keep tax records. In general, people who file a return reporting all their income should keep records for three years after filing.
4. File an extension if more time is needed. The penalty for filing taxes late is greater than the penalty for paying late. The IRS permits filers to file one extension, allowing late filing of the tax return on Oct. 15. At least 90 percent of the tax due is still required on April 18. Filers who can't pay their tax due in April can pay later. They will pay penalties and interest on the amount due, but the half-percent penalty for paying late is less than the 5 percent penalty for filing late. Filing more than 60 days late without filing an extension incurs a 100 percent penalty.
5. Don't fall for scams. Several phone and Internet scams seek to take advantage of people who owe taxes, especially because some of these people may owe other debts, making them vulnerable targets. Before providing any personal information to these contacts, people should make certain they are dealing with the IRS. The IRS always communicates first by postal mail. Find out more about avoiding tax scams.
6. Seek help with debts. People who face a greater tax burden than they can pay do have options. The IRS itself offers options, including reduced penalties for taxes not paid due to a "reasonable cause" or payments on an installment agreement. People who owe more than $10,000 in tax debt can consider consulting a tax debt relief specialist. These specialists can negotiate directly with the IRS on a taxpayer's behalf to help obtain a settlement.
The federal tax filing deadline is April 18, 2016, because of a Washington, D.C., holiday on April 15.
Freedom Financial Network (http://www.freedomfinancialnetwork.com)
Freedom Financial Network, LLC (FFN), provides comprehensive consumer credit advocacy services. Through the FFN family of companies – Freedom Debt Relief, Freedom Tax Relief, ConsolidationPlus, FreedomPlus and Bills.com – FFN works as an independent advocate to provide comprehensive financial solutions, including debt consolidation, debt resolution, debt settlement and tax resolution services for consumers struggling with debt. The company, which has resolved more than $4 billion in debt and assisted more than 300,000 clients since 2002, is an accredited member of the American Fair Credit Council, and a platinum member of the International Association of Professional Debt Arbitrators.
Based in San Mateo, California, FFN also operates an office in Tempe, Arizona. The company, with 750 employees, was voted one of the best places to work in the San Francisco Bay area in 2008, 2009, 2012, 2013 and 2014, in the Phoenix area in 2008, 2009, 2010, 2012, 2013, 2014 and 2015. FFN's founders are recipients of the Northern California Ernst & Young Entrepreneur of the Year Award.
(end)