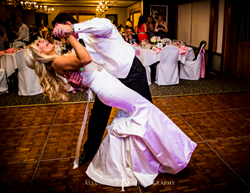 Sherry Hagerman and her staff are professional storytellers, creating unique albums for each couple.
Hinsdale, Illinois (PRWEB) February 13, 2015
For the past eight years, Allusion Photography has been selected as "Best in the Midwest" by the premiere site and publication for brides, The Knot. In fact, owner Sherry Hagerman is in The Knot's Hall of Fame for her non-stop performance as one of the country's leading wedding photographers.
"Wedding photography isn't just my business, it's my passion," commented Sherry. "I've always loved working with brides and their families, but technology is always changing and I want to keep providing my clients with the very best. So we've launched Allusion Premiere, which gives me the opportunity to work even more directly with each couple," she went on to comment.
Based just outside Chicago in Hinsdale, Sherry has raised the bar on the service and products a bridal client receives. Both Allusion Photography and Allusion Premiere will continue to support the Chicago area, but Allusion Premiere offers a series of higher end products with a larger album, "Bride's Choice" of album sizes, exclusivity in working with Sherry directly and an extended proofing system for tablet viewing. The product line for both Allusion and Allusion Premeire is exciting, but with Premiere it's more extensive.
About Allusion Photography
Founded by artist/photographer, Sherry Hagerman, Allusion Photography has grown to be one of the top wedding studios in Chicago and in the country. "Photographing a wedding is never about the process of the day – but rather appreciating the values and the new love that is before the bride and groom. It truly is about capturing the passion, the feel and the first family memories that will set precedence for years to come." Allusion Photography boasts a complete staff of dedicated photographers, each capturing memory-making images to make every wedding album unique.
For more information visit http://www.AllusionPhotography.com or contact Mike Tallerito at mike(at)allusionphotography(dot)com or call 630-560-5684.